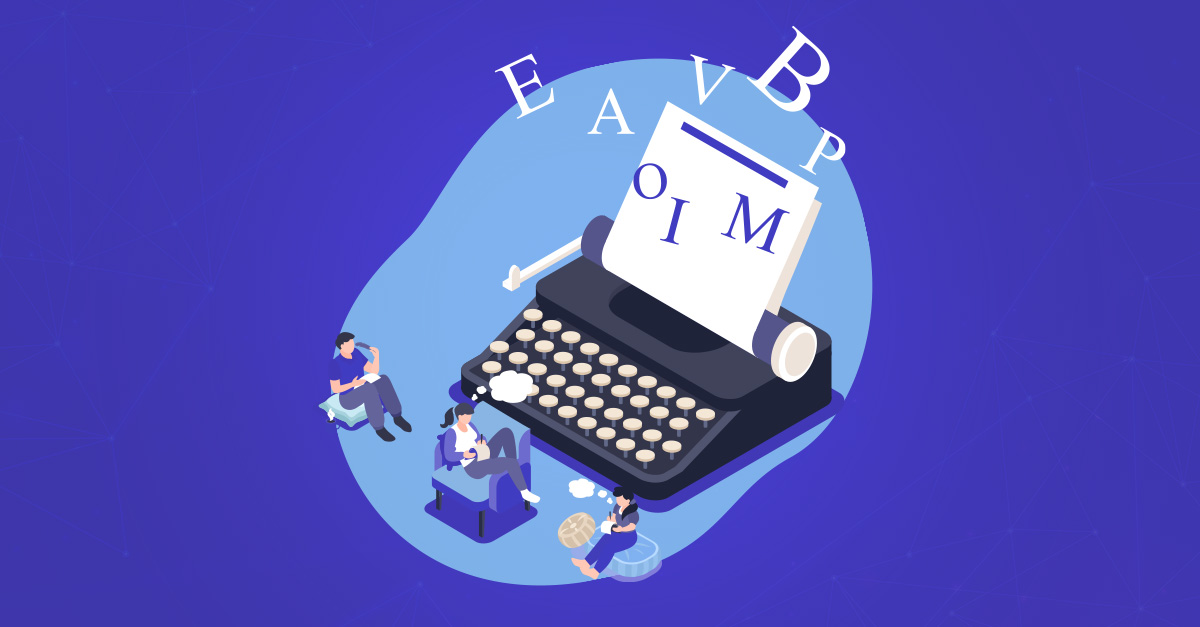 30Mar
How to Write Engaging Press Release Headlines in Crypto [w/ Examples]
Are you looking for ways to write more engaging crypto press release headlines? You've come to the right place.
Using a press release as part of your crypto marketing plan can be an effective way to reach your target audience, get invaluable earned media, and even improve your project's SEO.
However, no matter how well you've written your crypto press release, if your headline isn't engaging enough, your press release will likely be ignored.
Whether your crypto press release is aimed at journalists, investors, or end users, writing an attention-grabbing headline is essential to getting traction.
So how do you find the balance between staying objective and grabbing attention?
How do you write engaging headlines for crypto press releases that reflect your brand's personality and yet come across as objective and authentic?
Let's find out.
6 Tips for Writing Engaging Press Release Headlines in Crypto
1. Match Your Headline With Your Audience
When writing a press release, you need to have a clear idea of who your target audience is. Are you addressing crypto journalists and publications? Or are you talking to your customers or investors?
Once you know who you're writing for, you can match the headline with your audience.
But what does that mean?
To find a headline-audience match, identify their interests and use the language they find appealing.
Say you're distributing a press release for an NFT project. For example, consider the press release headline below regarding the launch of NFTonPulse.io. The writer has kept the headline perfectly objective, straightforwardly stating the news while mentioning a "Brand New NFT Marketplace" to capture the attention of NFT enthusiasts.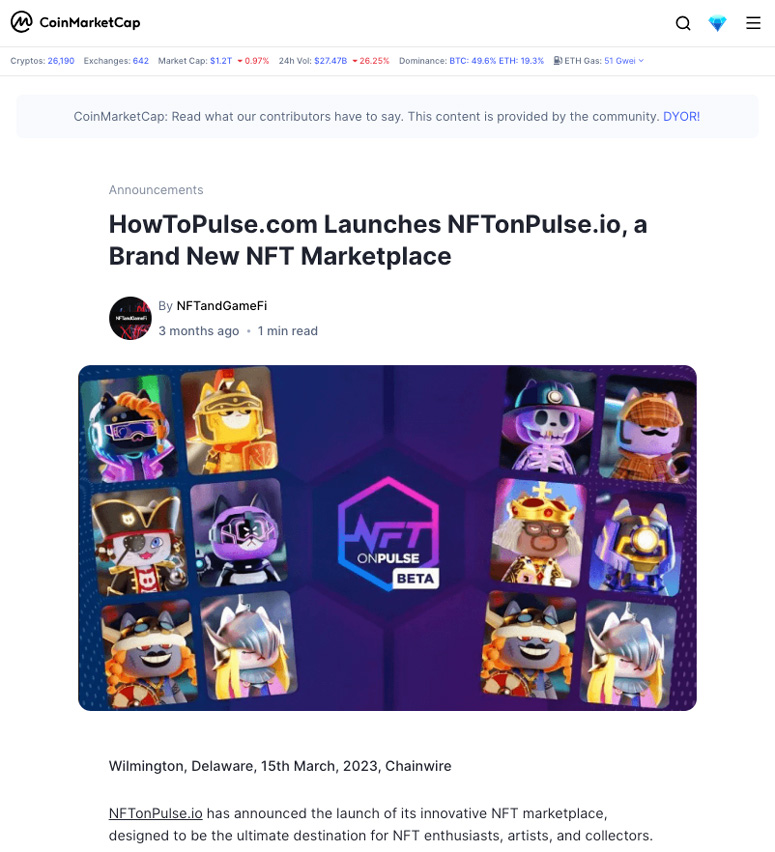 2. Use Strong Action Words
Using action words in your headline can significantly improve the engagement of your press release. When used correctly, action words grab attention early and provide a hook for the reader.
But what are action words?
These are powerful verbs that can make your headlines more impactful, drive engagement, and inspire action.
Examples of action words you can use for crypto headlines are:
Launch
Introduce
Unveil
Announce
Implement
Enable
Enhance
Expand
Integrate
Partner
Remember to be careful not to oversell or over-hype the news and present it objectively to maintain credibility.
Here are some excellent headline templates using action words:
"Blockchain Consortium Announces Partnership with Major Tech Firm for Interoperability Solution"
"Crypto Startup Launches New Payment Platform for Global Transactions"
"Crypto Exchange Unveils Innovative Trading Tools for Investors"
For a real-life example, have a look at this press release about a partnership between Wemade and Space and Time. Here, the words "announces" and "to power blockchain and gaming services" can be recognized as solid action words that urge the reader to read on.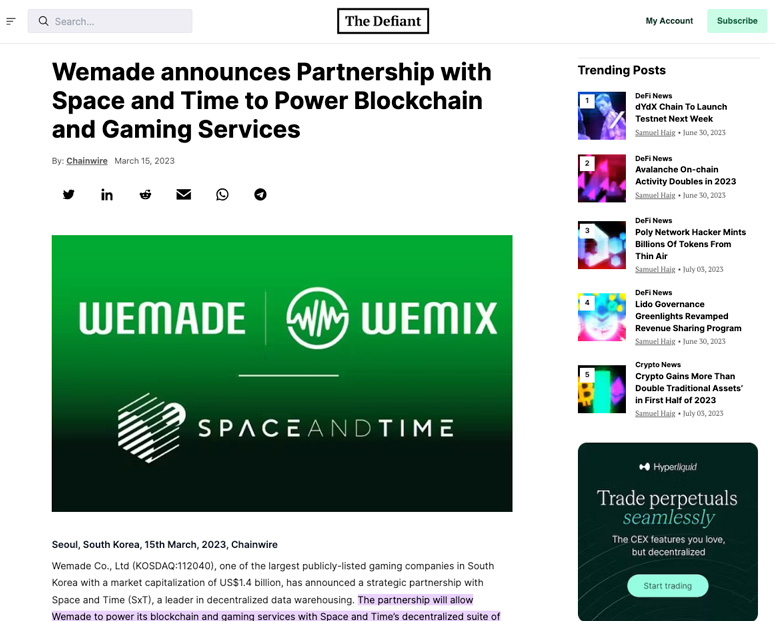 3. Ask Yourself If Your Audience Would Care About This Headline
Whether your press release is about a new project launch, a feature upgrade, or a new partnership, it's easy for crypto marketing teams to become myopic and forget about the most crucial stakeholder – the audience.
Start with your target reader's perspective in mind. Why would they care about your headline?
Does it target their interests?
Does it address a pain point?
Does it talk about something your competitors aren't offering?
Identify what makes your news different from what the competitors are saying, then try incorporating this unique element in your headline to instantly break through the clutter and grab the reader's attention.
Your audience wants to know what's in it for them. If your headline can communicate the benefit of your news, you'll get the engagement you want.
However, this should not come at the cost of objectivity. The ideal headline is at the intersection of engagement and objectivity. Don't make it sound promotional or hyperbolic.
Consider the example of Metacade's press release headline to share an update on its token sale. The skillfully written headline tells its audience exactly where the token sale stands. It goes on to further tease the reader about the remaining stages.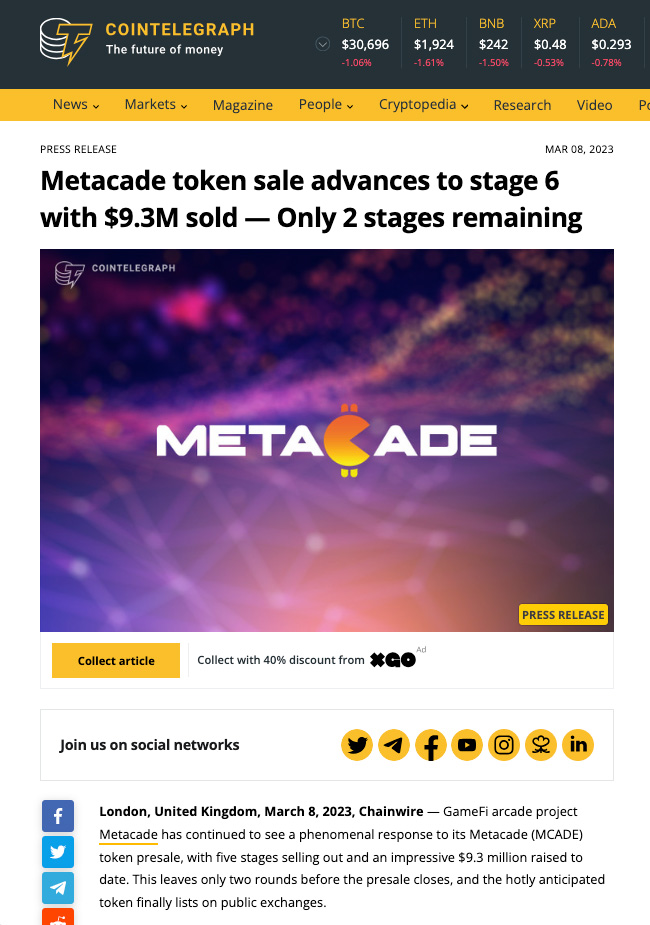 4. Keep it Concise and to the Point
The best crypto press release headlines are scannable, concise, and to the point. Your target audience should be able to understand what your announcement says without having to read the headline twice.
To achieve this effect, make sure your headline reads smoothly and coherently. In a world full of distractions, headlines written in easy language stand out and grab attention.
Moreover, your press release headline gives you a small window of opportunity to make an impression on your target audience. Use it wisely. Think of the most important fact from your press release and try to include it in the headline.
For instance, if there's a funding announcement for your crypto project, try to include the funding amount and the investor's name in the headline. If the investors aren't well-known, focus on the funding amount and use the investor's name in the press release content.
In the example below, the headline writer correctly mentioned Metatime's funding amount as early as possible in the text to create a hook while keeping the headline concise.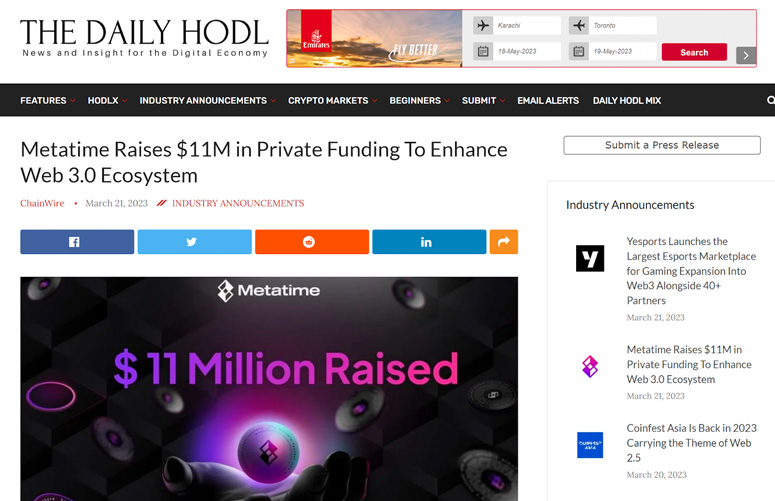 5. Use Numbers and Statistics
According to research by Columbia University and the French National Institute, over 59% of people actively share and engage with content if they find the headline interesting. Think about all the shocking statistics you see as part of news headlines.
This is a tried and tested method to boost engagement.
In the crypto industry, where credibility is already scarce, using numbers can add more authority to a headline. It makes your message more persuasive through quantifiable evidence of the information you're reporting.
Remember, if your news has stats, include the most impactful one in the headline.
The headline writer in the example below has skillfully combined a dollar value with time to create a sense of demand and urgency. At the same time, the headline has maintained an objective tone.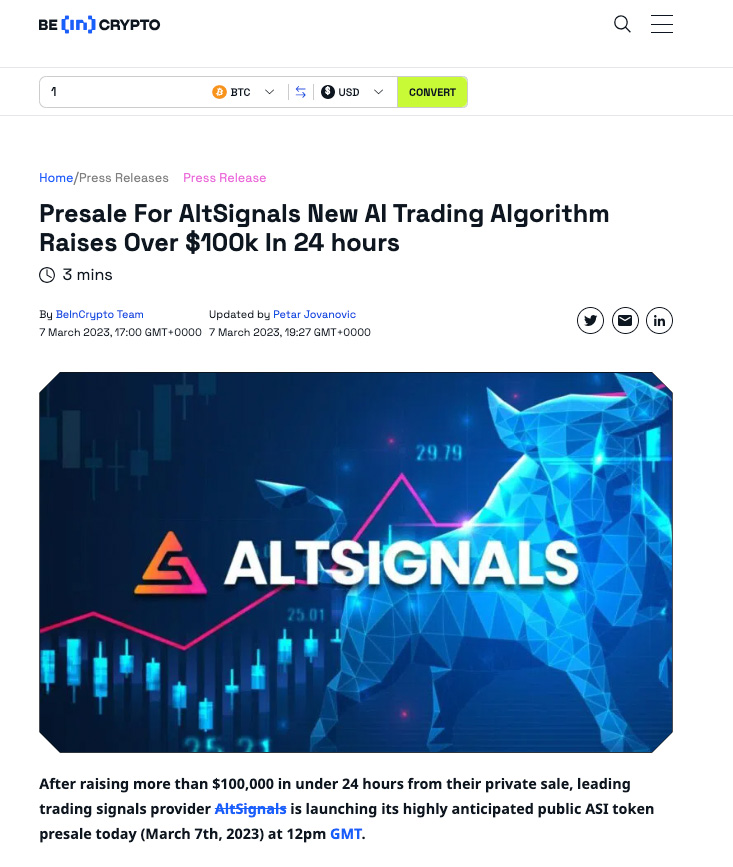 6. Make it Timely and Relevant
The crypto industry is operational 24/7. In such a volatile and dynamic environment, the timeliness of your press release headlines can make a big difference. Timely information can inspire action, increase your crypto project's relevance, and boost engagement.
Furthermore, timeliness can also give you a competitive advantage. Being the first to incorporate trends in your content or share industry news can give you a significant advantage in the form of brand awareness and thought leadership.
Here's an example of a crypto project using a trending event in its press release headline. In addition, the writer has also included a measurable reward in the text as a powerful hook.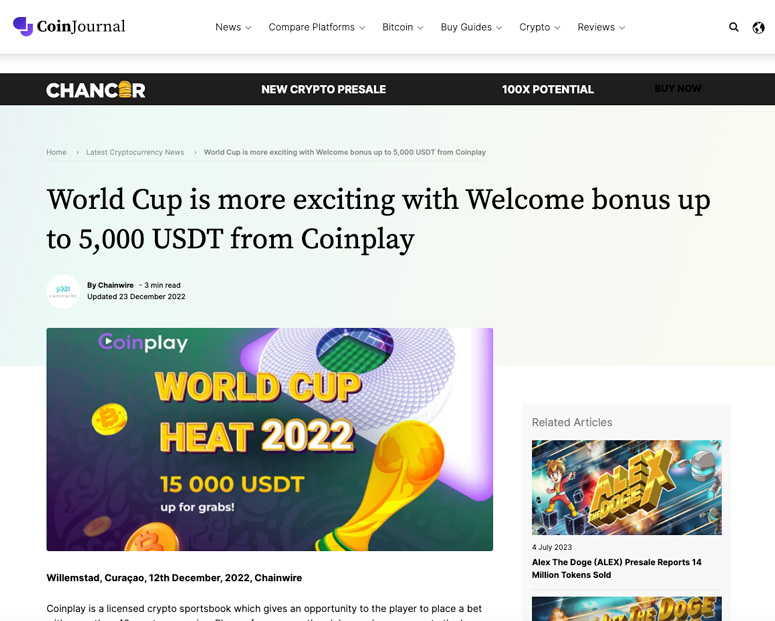 Conclusion
Whether your press release is for crypto journalists or your customers, you're dealing with factors such as a low tolerance for mediocre headlines and short attention spans.
You may have spent days getting the details of your press release right, but if the headline doesn't immediately grab the reader's attention, it may all be in vain.
Therefore, it's essential to use your headline to engage your target audience and compel them to pay your crypto press release the attention it deserves.
The specific hooks you can use to boost engagement depend on the nature of the announcement you're making.
However, remembering and practicing the tips we've discussed in this post is a surefire way to make your press release headlines more engaging.