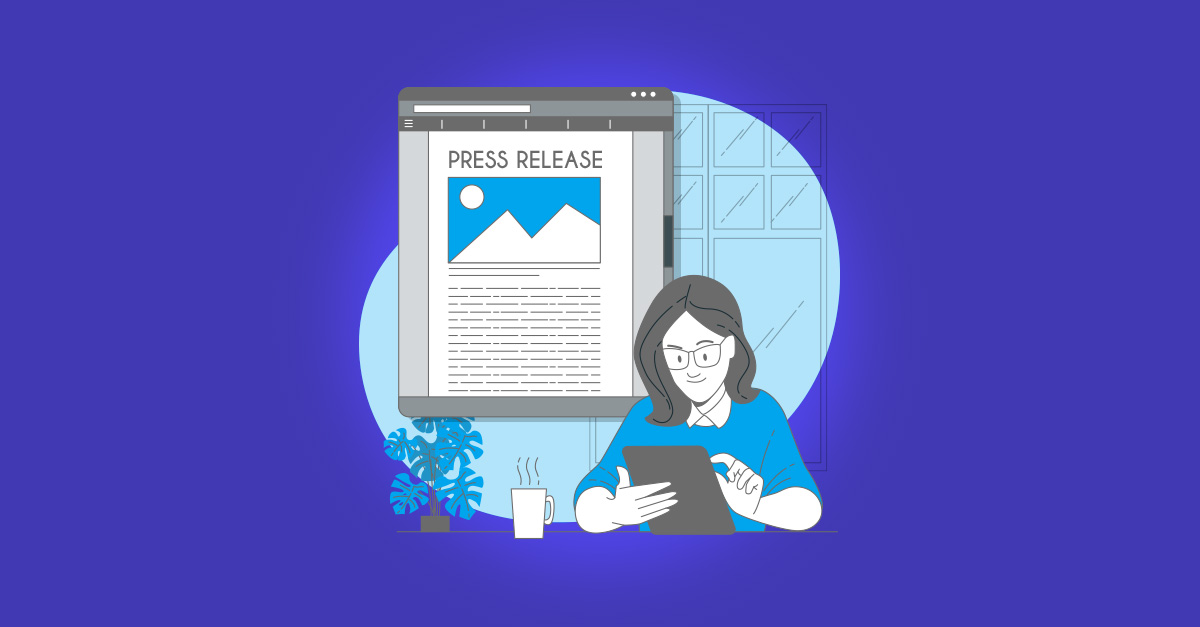 18Sep
Writing a Crypto Press Release: Tips & Examples from PR Professionals
From the birth of Bitcoin in 2009 to over 10,000 active crypto projects today, blockchain technology has gone mainstream in a little more than a decade.
According to The Motley Fool, over 6000 crypto projects were launched in 2021. That's over 16 projects a day, each trying to capture the attention of the media, potential investors, and the crypto community.
With such fierce competition for eyeballs, the window of opportunity for you to get your message across to your audience is very slim.
Press releases offer a way for crypto projects to pitch their story to crypto journalists and boost their chances of getting top-quality media coverage.
However, it's important to note that crypto journalists receive hundreds of press releases every week. So, unless your press release is written professionally and meets specific standards, it's likely going to be ignored.
Now, you may be wondering what these standards are. How do you write a crypto press release like a PR professional?
Let's dive into the details.
PR in the Time of Crypto
First off, let's put things into context.
Unlike any other financial markets, crypto exchanges are active 24/7 and so is the crypto community. This makes crypto PR a unique space for PR professionals.
In addition, there have been repeated calls to ban crypto advertising on social media and elsewhere due to multiple scams and rug-pulls in the past. This has increased the importance of other online communities such as Reddit, Bitcoin Talk, and Steemit where enthusiasts and experts often congregate for news, views, and advice.
After hundreds of failed ICOs in 2017-2018, the 2021 NFT gold rush cooling down, and the sudden crash of Luna, the main communication challenge faced by the crypto industry is that of a trust deficit between itself and the public.
However, PR retains an important role in the crypto marketing mix and in addressing these concerns. When done right, your press release would put forth all the facts about your project in a concise manner, providing your audience with value, and the journalists with a unique story to write about.
Let's look at the essential components of a professionally written crypto press release.
How to Write a Crypto Press Release – Essential Components
Here are the main components of a professionally written crypto press release.
The Topic
We get it. The crypto space is full of new developments at breakneck speed. But when writing a crypto press release, it's important to limit yourself to a single topic.
Now, what makes a good topic for a crypto press release? Remember, the objective here is to announce significant company news and to capture the media's attention. Generally, the following kinds of topics are well-suited for press releases:
New products
Token exchange listings
Token launches/buybacks
New technological innovations
Upcoming events
Mergers
Partnerships
Management changes
HR and new hires
Headline
Once you know your topic, the next step is to create a headline.
As mentioned earlier, crypto journalists receive hundreds of press releases on a weekly basis. Therefore, a good headline can be the difference between a PR that gets news coverage and one that gets ignored.
A professionally written headline usually grabs attention by talking about something new. By "new", we don't mean just another new token. Everyone is doing that. It has to be bigger than that, or at least sound bigger than that.
Here are some examples of headlines we liked from startups who used Chainwire to distribute their press releases: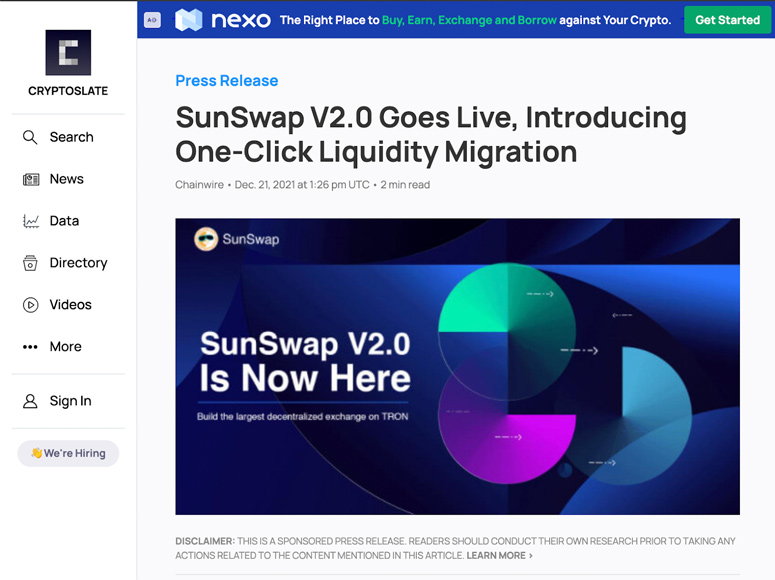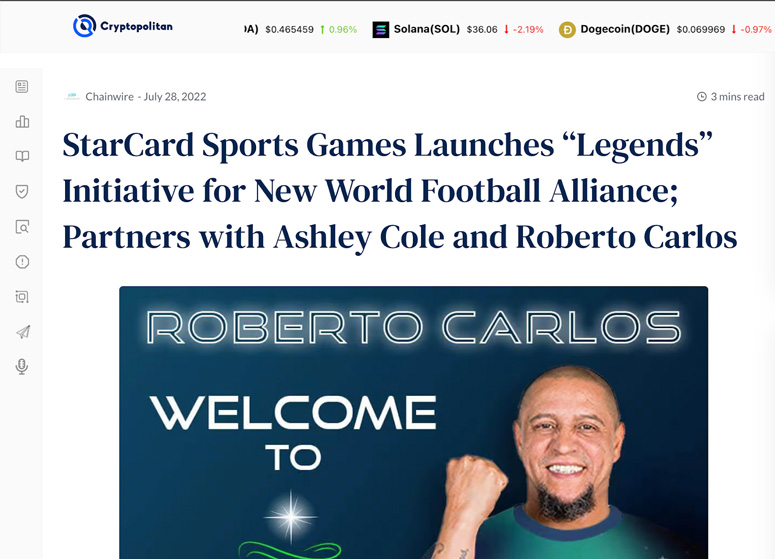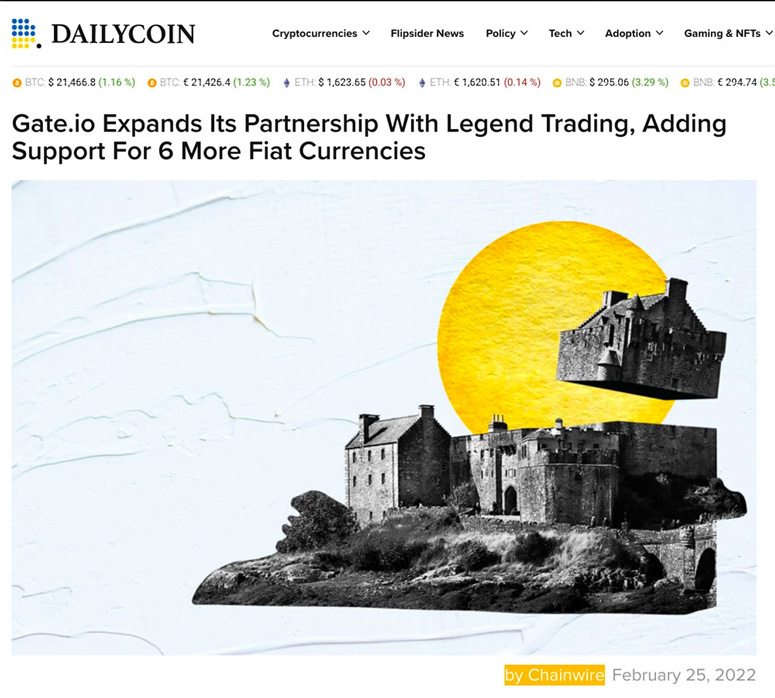 It's important to avoid superlatives and keep your headlines as clear and concise as possible. Examples of words that should never be in your headline are:
Absolutely
Outstanding
Amazing
Instead of hyperbole, try using numbers to make your headline crisp and the story's impact measurable.
Moreover, good PR headlines are different from good blog titles. For example, "How to Write Crypto Press Releases Like a PR Professional" only works for the latter. PR headlines should be straightforward and objective.
Another useful tip is to focus on what you do instead of who you are. Therefore, avoid naming your brand in the headline. Otherwise, you risk making it too advertorial in tone. In the same vein, steer clear of first-person pronouns such as "we", "us" and "our". The spotlight has to stay on your story, not your company.
Subheading
The subheading supports the headline and serves to build on it. Is your headline too big? Break in two parts, using the subheading to complete it.
Together, the headline and the subheading should position your story as unique, highlighting points of differentiation and creating a hook for the reader to dive into the details.
For example:
The headline, "W3 Storage Lab Raises $3m in Pre-seed Round", has the subheading, "Software Developer to Create a Suite of Killer dApps that Leverage Next-Generation Protocol and Marketplace for Decentralized Storage"
Visuals
Humans are visual creatures, even more so when they're in crypto because there is so much to process in a short span of time. Adding an impactful hi-res image that complements your story not only serves to grab attention but can also help journalists understand your angle of the story.
In the StarCard Sports Games PR, even if you miss Roberto Carlos's name in the long headline, you can't miss his face in the image.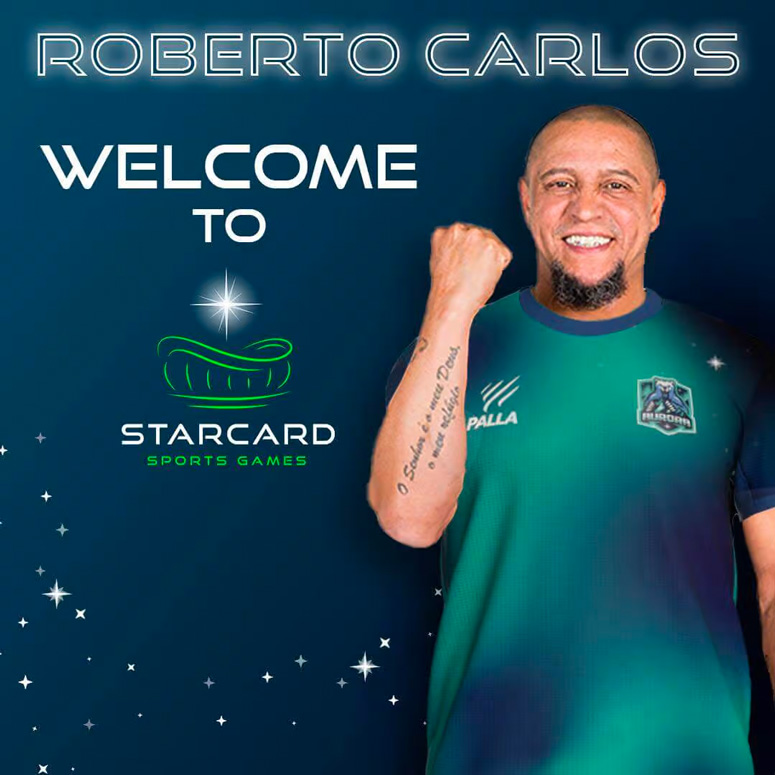 First Paragraph
Start with the date and location that applies to the announcement. From there, dive straight into the who, what, when, where, and why of the content. State the facts as concisely as possible.
Consider the example of this PR by Vetter Ecosystem. The style followed here adds a space between the date and the first paragraph, but you can also include it in-line at the beginning of the first paragraph.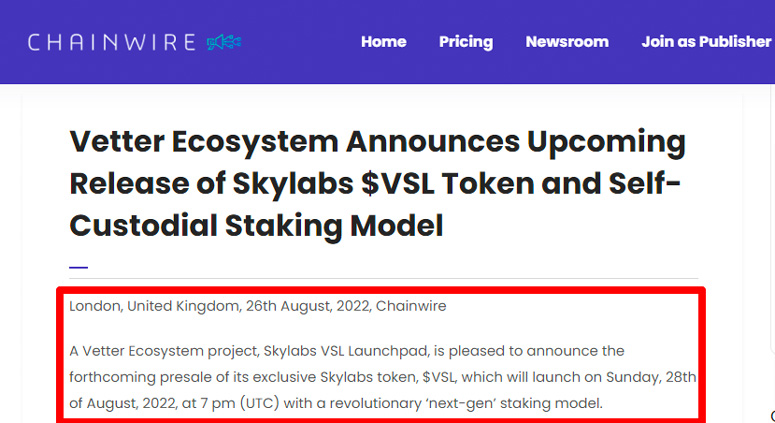 The broader theme to follow from here onwards is that of an "inverted pyramid". Imagine an inverted isosceles triangle. We start with the most important information in the first paragraph, putting less important information in each subsequent section.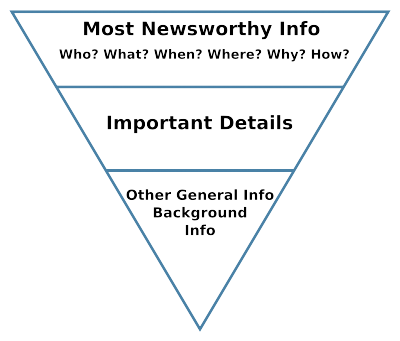 Details of the Announcement
Use the main body text to expand on the information provided at the beginning of the press release. Talk about the details, the specifics, and the technicalities here.
However, remember to keep your audience and the objective of the press release in mind. Ideally, the language of the press release should be as easy to understand as possible. But crypto audiences expect a certain level of technical information in crypto communications.
Therefore, the key is to find the balance between using technical jargon where necessary and keeping the press release interesting enough to keep the audience hooked.
Considering the previous example again, you can see how the PR dives deeper into the details and expands on all the necessary technical aspects of the news.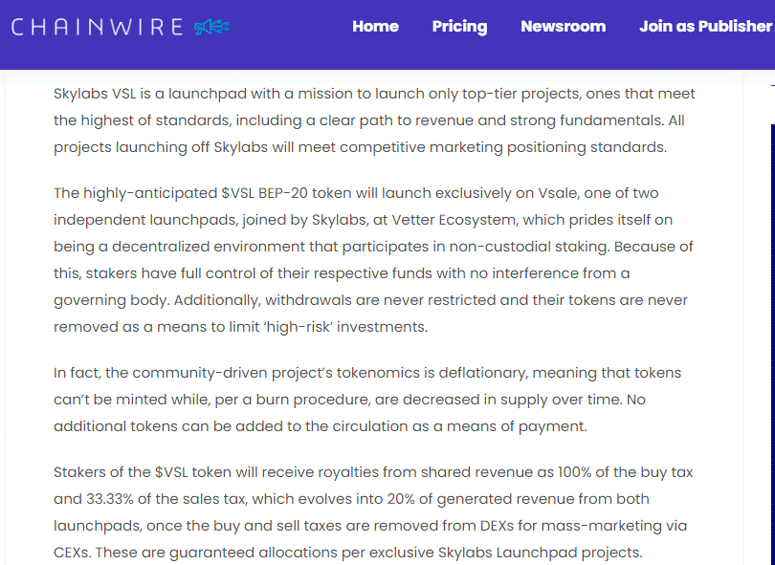 Social Proof
One of the biggest challenges in crypto communications is to establish trust with your target audience. According to a recent study, 77% of consumers look for social proof when browsing local businesses.
Therefore, crypto press releases written by PR professionals often include social proof as a means to build credibility. This may mean highlighting the number of downloads on your new app or positive feedback received from customers.
Consider the SunSwap V2.0 example again where the social proof is added in the form of the project's TVL, trading volume, and liquidity mining returns.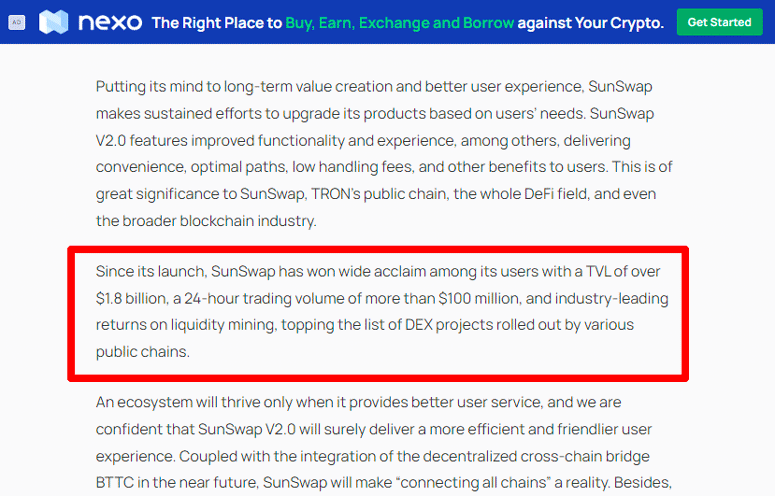 If you're new to the industry and have no social proof, talking about your journey through an accelerator or incubator program can also work. Did the founders attend a prestigious university? Use that as well!
Include a Quote
Crypto is a very crowded space. A professionally written crypto press release would uniquely position your company to make it stand out. Crypto founders and CEOs can also become PR assets for their brands just like the Teslas, Apples, and the Googles of the world.
Keeping that in mind, it's always useful to include a quote from the CEO or the top management to position them as experts. This adds to your project's credibility and humanizes the brand.
Going back to the StarCard Sports Games PR example, we can see how quotes from Steve Schechter and Roberto Carlos are included in the content.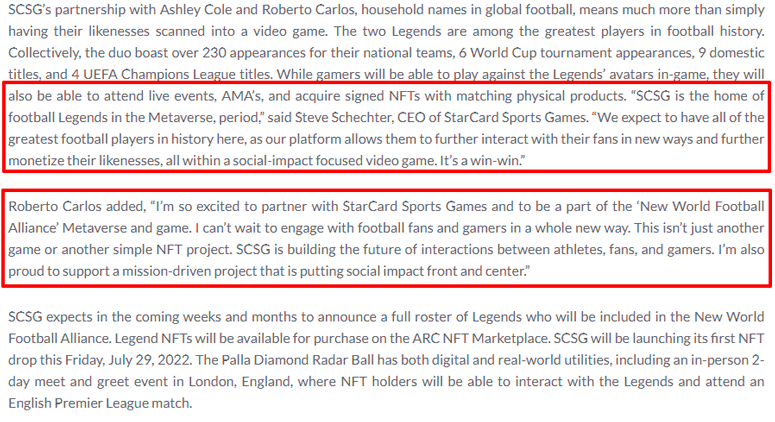 Boilerplate
Finally, use the last part of the press release to provide standard boilerplate text. This section should briefly describe your company, its main achievements, and any other important information about the organization.
Use an objective tone and do not try to praise your company or brand, however much you would like to. This is the place for people to get to know your company and understand what it's about.
Here's how the boilerplate looks in the StarCard Sports Games PR we discussed earlier.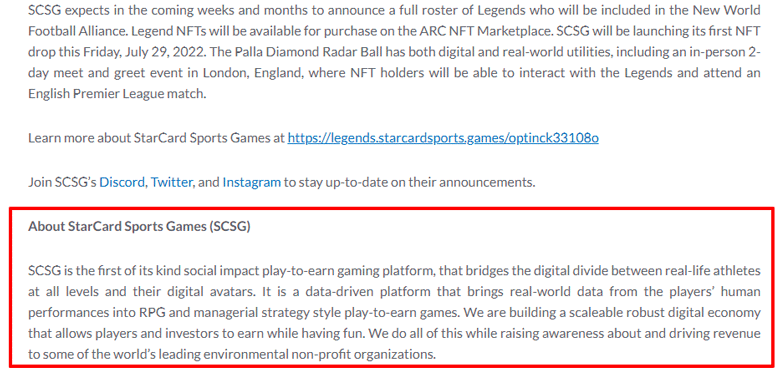 Press Contact
Make sure to include a press contact people can follow up with for more information about the press release. Ideally, this should be a name, email, and phone number.
Legal Considerations
As a rule of thumb, press releases need to be carefully fact-checked. Any statement made in your crypto PR needs to be complete and accurate in the context of present circumstances.
It's also important not to make any unsupported claims. Many government agencies such as FINRA, FDA, and FTC consider PR a form of advertising and hold it to the same standards in terms of the kind of proof required when making a claim.
The Securities and Exchange Commission (SEC) treats many tokens as securities, and therefore, is a relevant stakeholder in any compliance-related discussion on crypto PR.
Accordingly, the release of any material information should be in line with SEC's Regulation Fair Disclosure (Reg FD). Here, material information means any knowledge that a reasonable investor may give weightage to in a decision on whether or not to buy certain security.
Here's an example of a press release by a crypto investment platform announcing the new funding through Chainwire's crypto press release distribution platform.
This is why we made our own editorial policy to help Chainwire clients generate press releases that comply with all of our publishers' guidelines.
Final Thoughts on Writing a Professional Crypto Press Release
It's an exciting time to be in crypto. With innovative use cases and increasing acceptance of the technology around the world, the importance of clearly communicating the progress of your blockchain projects is greater than ever.
A well-written crypto press release is a fantastic way to earn media coverage and build credibility. As we've demonstrated in a series of simple steps, the process is straightforward. Stick to it and you'll be well on your way to crypto PR success.