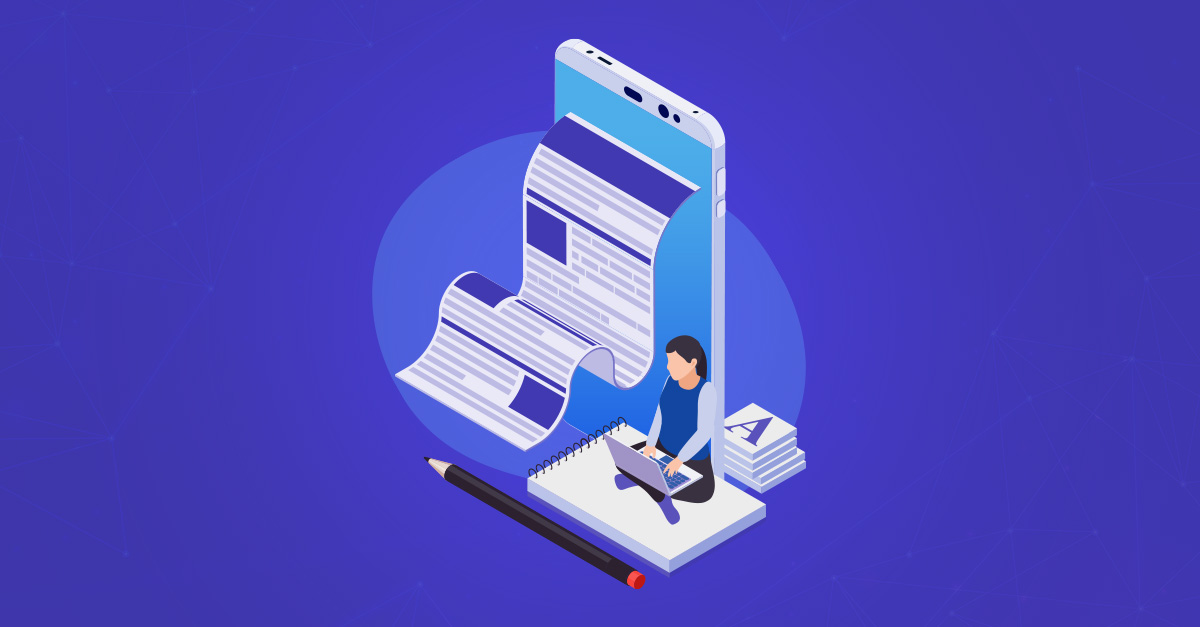 18Jan
Avoid These 10 Mistakes When Creating a Crypto Press Release
If you want to write crypto press releases without making rookie mistakes, this post is for you.
A well-written press release can provide a massive boost to your crypto project by putting your story in front of the top journalists and publications in the Web3 space. When done correctly, this can result in valuable earned media, higher brand awareness, and more conversions.
With that in mind, knowing the DON'Ts is just as crucial as the DOs when you're learning how to write a crypto press release. So we've shortlisted the 10 most frequently repeated mistakes by writers.
Let's take a closer look at each one of them in detail.
10 Mistakes to Avoid When Creating a Crypto Press Release
1. Ignoring the Standard Structure
First things first – get the basics right. If your press release is structured incorrectly, it will likely never see the light of day. What does a press release structure typically look like?
Typically, your crypto press release would include the following elements:
Headline: An attention-grabbing headline that summarizes the central message of the press release.
Dateline: The date and location of the press release.
Introduction: A brief overview of the central message of the press release.
Body: The main content of the press release, including details and quotes from relevant sources.
Boilerplate: A brief description of the crypto project or brand issuing the press release.
Contact information: The name, title, phone number, and email address of the person to contact for more information.
2. Using Hyperbole
Another easy trap crypto brands tend to fall for is exaggerating their story using big words.
While it may be tempting to use terms like "first," "revolutionary," or "game-changing" to describe your crypto project, it can backfire and make you sound disingenuous. Furthermore, words like "outstanding" and "amazing" are at the top of most journalists' hate lists.
Instead, let the story speak for itself. Stay objective and stick to facts and figures.
Here are some press releases that found the perfect blend of language and objectivity: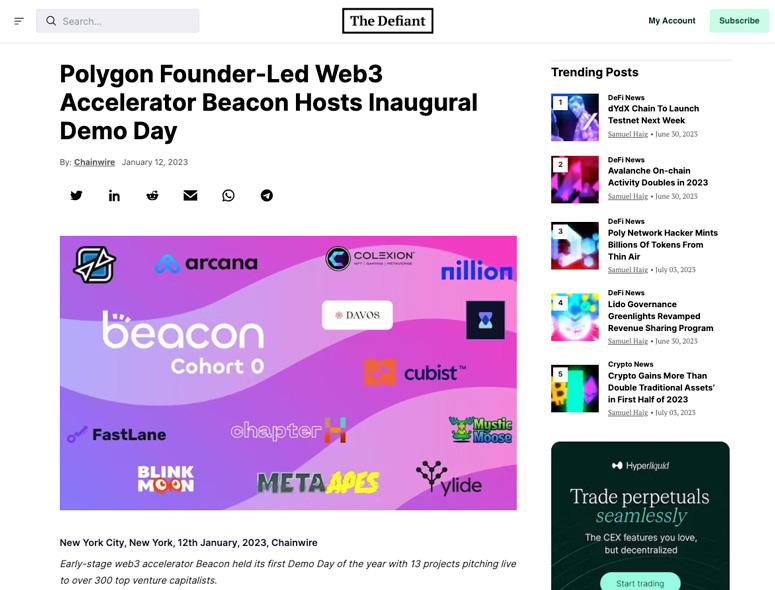 3. Making it Promotional
There are plenty of marketing channels where you can hard sell your project and use salesy language. Your crypto press release is not the place for that.
A press release is supposed to deliver newsworthy content about your organization to journalists and crypto news outlets. Avoid making it sound like an advertisement.
Don't use promotional language, such as first-person pronouns like "we," "our," "us," etc. Doing so puts you at the risk of getting ignored by the journalists you were hoping to target.
4. Not Making it Newsworthy
Please make sure your press release is about a newsworthy story.
How can you tell if a story is newsworthy? Ask yourself if what you're sharing is of any interest to the media and the general public. If the answer to that is negative, it may be better to wait until you have a more solid update to share.
You may be wondering what kind of topics can be considered newsworthy. Here are a few examples:
Newsworthy Story Examples:
A company's major product or service launch
A merger or acquisition
A new partnership or collaboration
A significant business expansion or relocation
A major award or recognition received by the company or one of its employees
5. Skipping Legal Review
Taking the legal review lightly can cost your brand everything. So, we can't emphasize the importance of legal review enough before issuing a fresh press release.
Make sure to have every claim fact-checked and every unsupported claim removed. This is necessary because several government agencies consider press releases a form of advertising and, therefore, hold them to the same accountability standards.
It's also important that your press release does not offer financial advice or promote a token, as this could be considered securities fraud. Providing financial advice or promoting a token without proper disclosures and registrations with the SEC could result in legal consequences for the company or individuals involved.
Finally, If you're a Chainwire customer, our editorial policy helps clients prepare press releases that comply with publisher guidelines, making it easier for you to publish your press release.
6. Providing Too Much Information
According to the Public Relations Society of America (PRSA), a press release should be no longer than one page, or around 400-500 words.
Due to the high volume of crypto press releases journalists have to go through in a short span of time, your press release must deliver a focused message in a concise manner.
Furthermore, formatting can help journalists quickly understand the structure and central idea of your press release. Use headlines, bullet points, and subheads to make the content easy to read.
Here are a couple of good examples of press releases that managed to communicate their message clearly and concisely: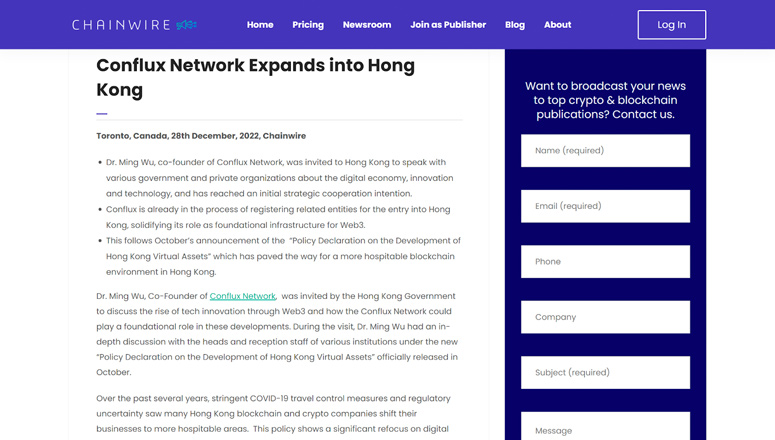 7. Ignoring SEO
There are a number of ways to use press releases for SEO purposes. But the foundation of press release SEO is based on the awareness of your audience's search patterns and preparing a keyword plan accordingly.
Make sure to include these keywords in the headline, summary, and body of your press release so search engines can find them and the press release can contribute to your SEO goals.
We believe this is the best way to extract SEO value from your press releases instead of focusing on nofollow backlinks that don't work for SEO.
Let's consider the example of WeSleep's press release that was distributed through Chainwire, and made it to the top crypto publications.
In the screenshot below, you can see the press release ranking on Google News' 1st page for the brand's keyword.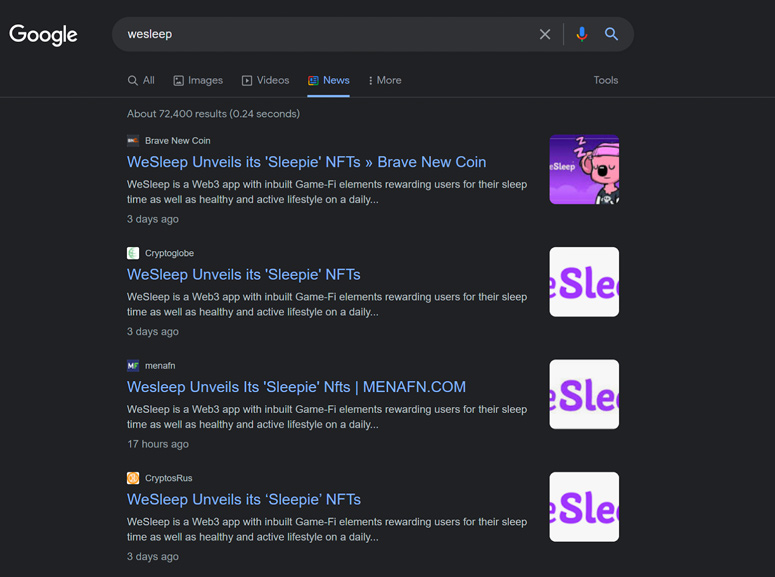 Again, the key considerations here are deciding which keywords you would like your brand to rank for and knowing how your press release syndications improve your search engine rankings.
8. Timing it Incorrectly
You've done the hard work by researching and writing the perfect press release. However, an ill-timed release can nullify any expected benefits. In fact, a poorly timed press release can damage your brand.
Therefore, it's essential to be aware of the environment you're operating in and how your story fits into the bigger conversation taking place in your space.
A great example of a bad time to issue a crypto press release was around the FTX crash. During this type of news storm, your precious press release is highly likely to be ignored and lost in the mix of titles such as this: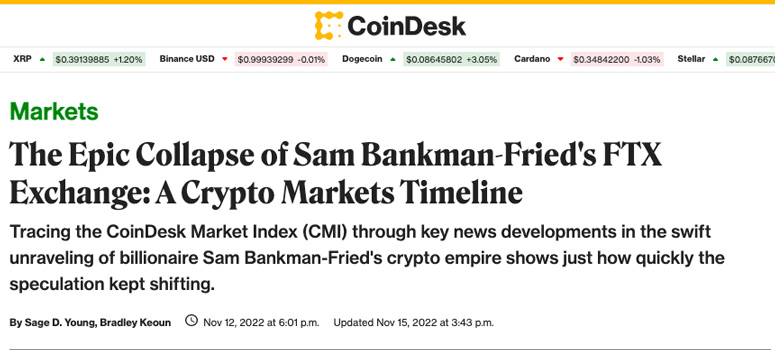 9. Choosing a Low-Quality Distribution Service
Your crypto press release distribution service plays a decisive role in the success of your PR strategy.
A well-established distribution service like Chainwire can connect you with the top crypto publications and journalists, boosting your earned media potential and brand credibility.
You won't get the coverage you need by promoting your press release on websites that are not relevant to your audience, have very low traffic counts, and do not provide you with homepage visibility.
That's why we created Chainwire. To help crypto companies reach their target audience on crypto news sites such as:
Cointelegraph
CoinDesk
CoinMarketCap
BeInCrypto
AMBCrypto
Dailycoin
CryptoSlate
And more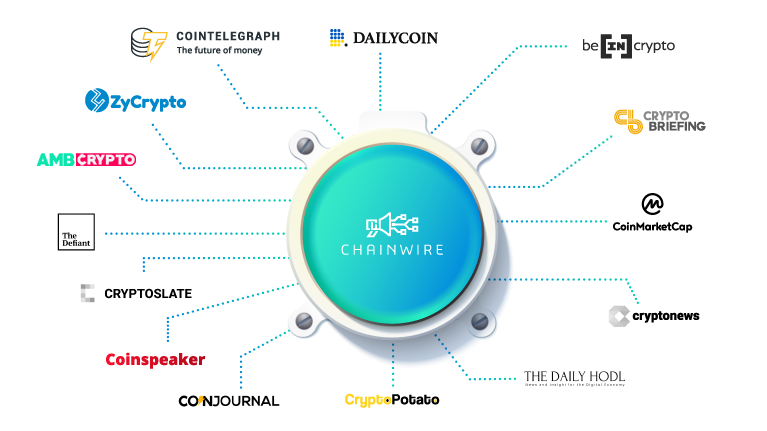 10. Forgetting to Leverage Your Owned Media
A coherent and fully aligned press release strategy includes leveraging owned media. This is a low-hanging fruit since your owned media channels do not demand an additional budget for you to roll out new content.
Therefore, make sure to take advantage of your website, social media, newsletter, and other owned media channels to amplify your paid media effort.
You can create a separate newsroom section on your website to showcase paid and earned media coverage your crypto project receives. This directly amplifies your press release story and, in the long run, improves your SEO rankings.
For example, here's Chainwire client Nexo's web newsroom:
Avoid These Mistakes When Creating Your Crypto Press Release
Writing and issuing a press release is hard work if you're a crypto brand trying to compete in a crowded space.
By avoiding the most common mistakes made in crypto press release writing, you save tons of time and money.
But more importantly, you set up your crypto marketing efforts for long-term success.