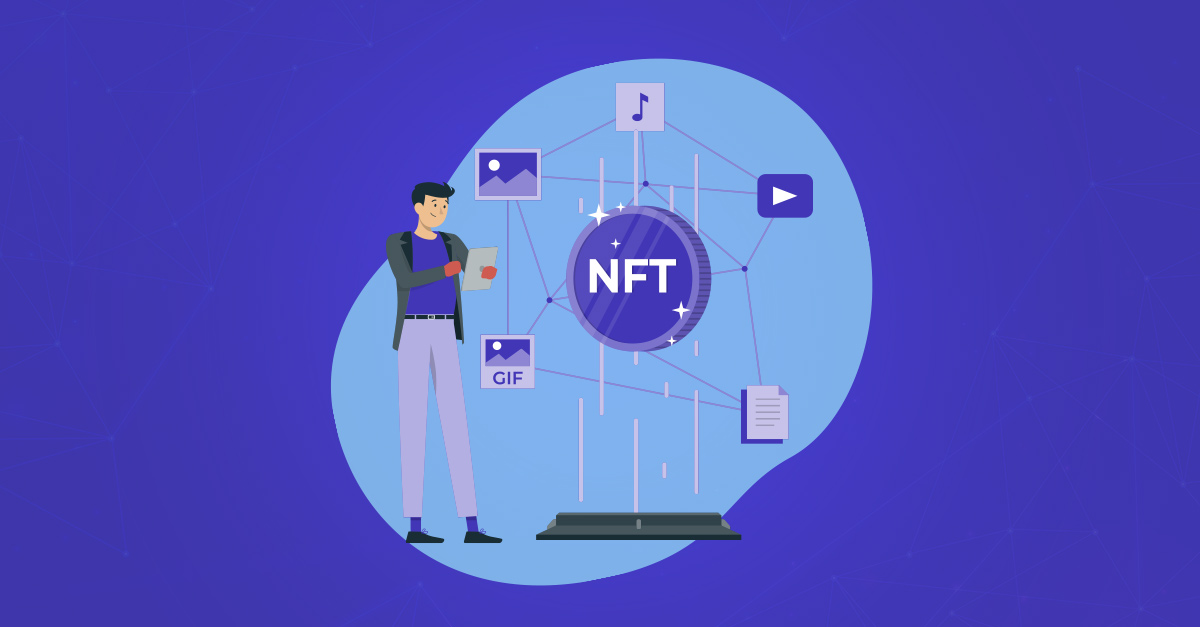 11Apr
An Ultimate Guide for NFT Press Release Distribution With Examples [2023]
Are you looking for information on NFT press release distribution? If the answer is yes, you've found the right article.
Press releases are a great way to reach your target journalists, publications, and end-users. But before you can distribute your press release, you must write it correctly.
Accordingly, this article will teach you how to:
Prepare an NFT press release.
Reach your target audience through effective NFT press release distribution.
Ready to learn more? Let's dive in!
How to Write an NFT Press Release
If you've read our guide on writing a crypto press release, you likely understand Web3 press release essentials.
However, to write an NFT press release, you need to go beyond the basics and understand what makes your NFTs unique and the technical aspects of managing Web3 projects.
Typically, to get your message across in the most effective manner, focus on answering the following questions:
1. What Are the Facts?
First and foremost, your NFT press release is supposed to make an announcement about some aspect of your project.
Remember, you only have a few seconds to make an impact, so get to the facts immediately. Use the headline and subheading to grab the reader's attention and create a hook. Here's our detailed guide on writing engaging headlines for crypto press releases.
Use the first paragraph to communicate the facts in simple language, balancing it with the necessary technical information your audience expects to see about your NFT project.
Let's use this press release about Binance's NFT Generator as an example (see screenshots).
2. What is the Importance of This Information?
Use the subsequent paragraphs to highlight the importance of the information provided at the beginning.
Think about how this information is helpful for your target audience. What value does it offer?
If you're targeting crypto journalists and publications, are you offering them a solid story angle? If it's your customers you're trying to reach, are you giving them the info they need to stay connected and engaged with your project?
3. What Companies Are Involved?
This part is called the boilerplate. As you approach the end of the press release, make sure to dedicate 3-5 sentences to each of the companies mentioned in the write-up.
These short paragraphs communicate what the companies do so your audience can understand their connection to your NFT project.
4. How Can People Contact You?
Provide contact information at the end of your press release so journalists, customers, and users can get in touch with you for further details.
Typically, this section would include a name, phone number, and email address.
Optimize Your Reach With Targeted NFT Press Release Distribution
Imagine writing the perfect press release, only to reach disengaged audiences, in the wrong countries, in languages they don't understand. Furthermore, distributing your press release to the wrong outlets may even hurt your SEO strategy.
Therefore, high-quality distribution is essential to the success of your press release. Effectively, your choice of NFT press release distribution service is the main factor that decides how your press release will perform.
This is where Chainwire makes all the difference.
Chainwire: Your NFT Press Release Distribution Partner
You can use Chainwire, to publish your press releases across all significant blockchain news outlets worldwide.
Our PR solutions are specifically tailored to the needs of Web3 businesses looking to announce new collections or high-value NFT sales.
Here's how we ensure customer success:
1. Targeted Crypto Coverage – Guaranteed
With our newswire distribution, you can secure homepage coverage on the following leading crypto news sites:
Decrypt.io
Cointelegraph.com
BeInCrypto.com
News.Bitcoin.com
AMBCrypto.com
TheDefiant.io
Cryptospeaker.com
DailyCoin.com
CryptoPotato.com
TheDailyHodl.com
CryptoNews.com
CryptoBriefing.com
And many more
So, rather than syndicating your NFT news on generic news sites that aren't really relevant to your target audience, you can make sure your press releases are seen by relevant audiences, 100%.
2. Global Coverage
Getting global coverage depends on maintaining strong international media relations. This is hard to achieve, and the agencies that do offer global coverage would often charge you exorbitant fees for it.
Chainwire offers guaranteed news coverage in the top crypto publications around the world.
Here's a detailed list of the leading publications and languages we offer.
The best way to communicate with an audience is in their own language. With Chainwire, you get idiomatically correct custom translations of your NFT press releases.
Our team of experienced translators ensures that your brand is represented the right way, regardless of the language being spoken. This means maintaining an authentic tone of voice and brand positioning across your target locations.
3. Analytics and Reports
Chainwire provides you with detailed reporting of your press release's performance. This includes the links where your press release was published, view counts, and more.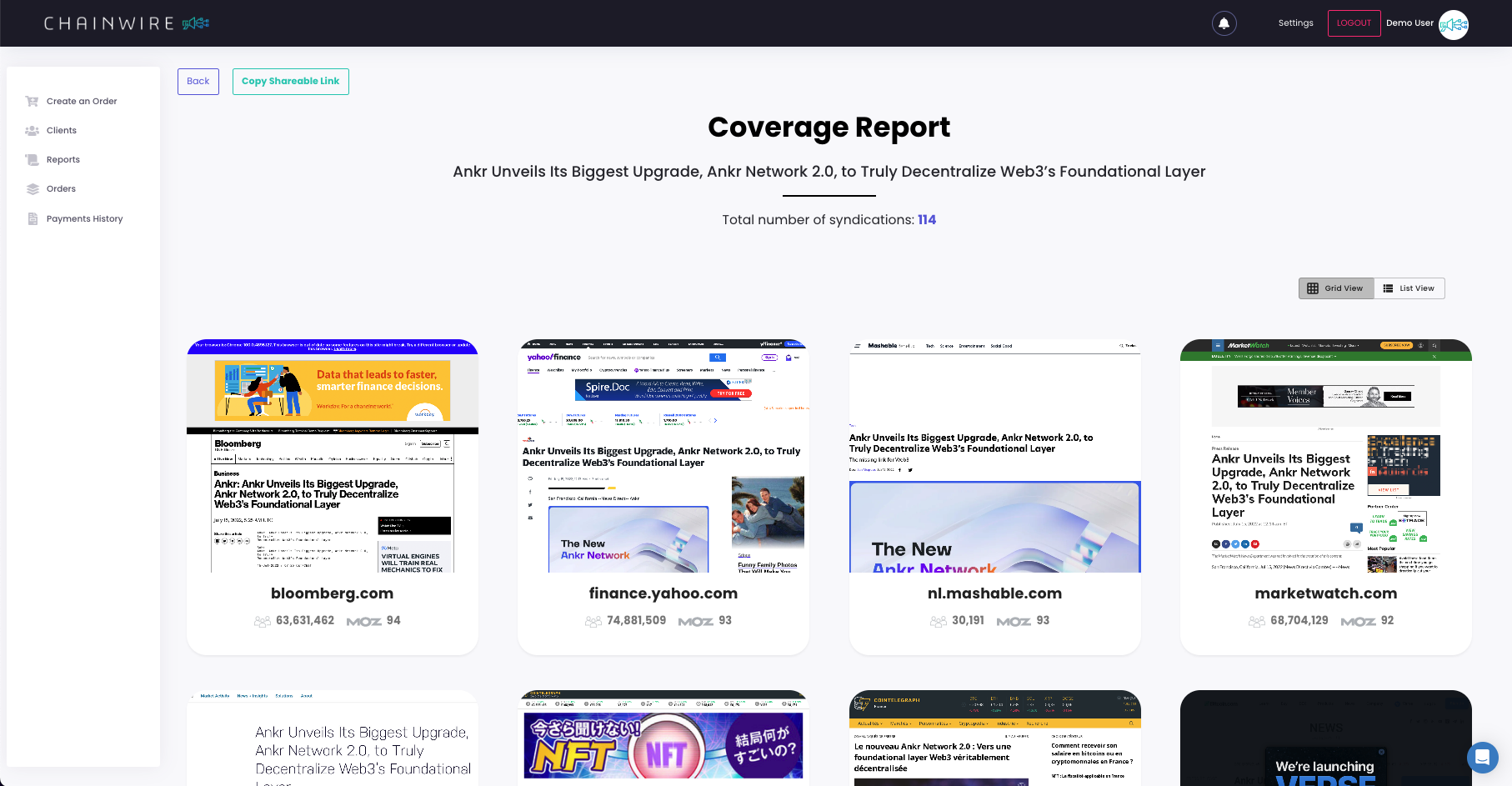 Our reports make it easy for you to share performance updates with your stakeholders, calculate your ROI, and adjust your strategy for the future.
Examples of NFT Press Releases Chainwire Can Help You With
Here are some examples of the various types of NFT press releases our clients have distributed through our platform.
NFT Launch
Generate buzz and excitement around your new NFT collections or high-value sales through an NFT launch press release.
NFT launch press releases are crucial to breathing life into new NFT projects. A well-written and well-placed press release can boost brand awareness, attract investors, and establish credibility for your project.
NFT Partnerships
Partnerships add value to your NFT project, often adding more functionality and prestige. Announcing your NFT partnership with Chainwire strengthens your relationship with your existing stakeholders and grabs the attention of new investors and customers.
Furthermore, a well-distributed NFT partnership press release also attracts other potential partners and sets your brand up for further growth.
Tech Integrations
Tech integration is a particular kind of partnership that adds new features and enhances the functionality of an NFT project. With the help of Chainwire, you can establish your NFT project as an industry leader and make it known for its technical depth.
NFT Events
NFT event press releases help to attract sponsors, improve attendance, boost awareness, and create more excitement around your event. Choose Chainwire as your partner for distributing your event press releases to the top crypto and Web3 news outlets.
Use Chainwire's content localization and international reach to communicate with the specific audiences relevant to your event in a language they understand.
Ready To Distribute Your NFT Press Release?
Press releases are an essential part of a comprehensive NFT marketing plan. However, how you distribute an NFT press release is just as important as writing one to perfection, if not more.
After all, sub-par press release distribution means having nothing to show for your investment, and in the worst-case scenario, having a damaged brand image and lower SEO rankings.
Chainwire delivers the best-in-class NFT press release distribution. The platform offers guaranteed news coverage in the most prominent blockchain news outlets and top-notch content localization options for eight geolocations.
Interested in guaranteed global press release coverage for your NFT project? Click here to sign up for a free Chainwire account.
You can also contact us via email or drop us a message on Telegram to book a free demo and experience the power of Chainwire for yourself.