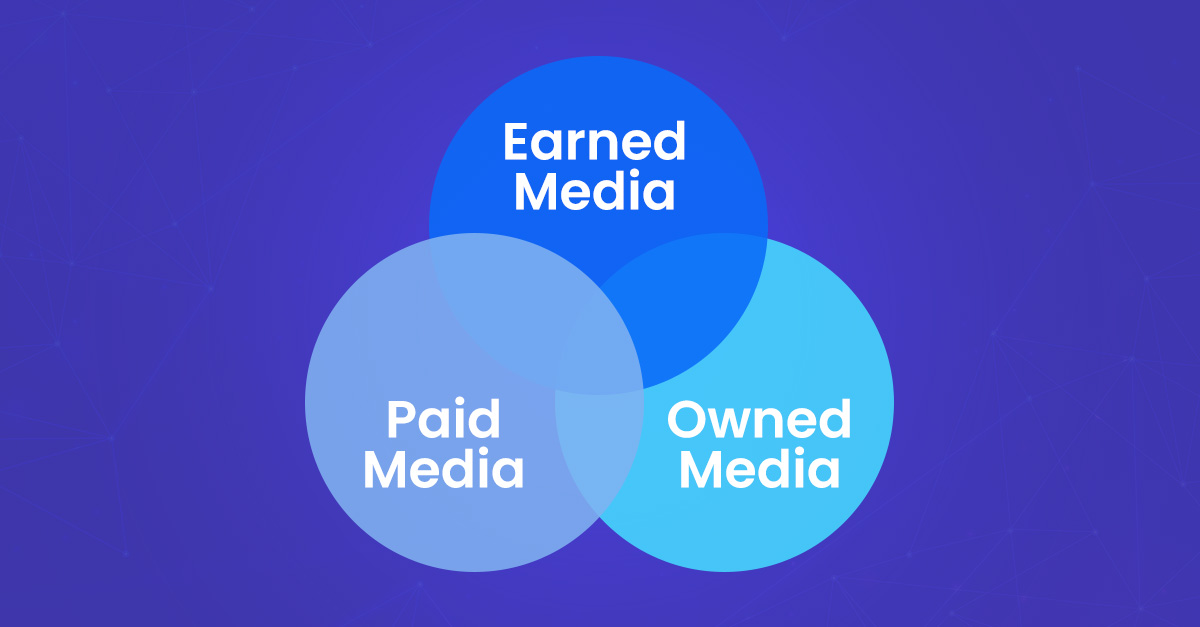 12Mar
The Difference Between Earned, Owned, and Paid Media in Crypto Marketing
In crypto, your marketing strategy is at least as important as your product, if not more. If you have a fantastic offering but no one really hears about it, it will drown in a sea of crypto projects that can convey their message more effectively.
At this point, you might be wondering, "how can I raise brand awareness efficiently without breaking the bank?"
The answer lies in understanding and leveraging the various types of media.
This post explores the differences between earned, owned, and paid media and how you can optimize each of them for better results.
So without further ado, let's get started!
Earned Media
Is your crypto project:
Doing something newsworthy?
Achieving something that gives journalists a unique angle on a story?
Producing outcomes that are changing an industry?
If the answer to any of these questions is "yes," your project is in a great position to get earned media.
But what do we mean by earned media?
Earned media refers to the organic news coverage your project or brand receives.
In other words, earned media can be defined as voluntary mentions of your brand on channels you don't own or control, such as blogs, articles, reviews, influencer shoutouts, or other forms of online or offline word of mouth.
According to a report by Alloy, earned media offers higher-quality traffic that results in 56% better goal conversions (signups, downloads, subscriptions, etc.) than other traffic sources. Sessions from earned media traffic last 33% longer.
So, what does earned media in crypto look like? Earned media in crypto comes in various shapes and forms.
It could be your favorite influencer mentioning your project.
If you've done something newsworthy, it could be a news article about your project.
Or it could be a crypto publication talking about your project because they found your press release interesting.
That's right. Your press releases can get you high-quality earned media if you write them correctly and avoid common press release writing errors.
Why Use Press Releases for Earned Media?
If we go by the strict definition, press releases are paid media. Their sole purpose is to put your story in front of the top crypto journalists and publications that are looking for quality stories to cover organically. Any organic stories originating from press releases are purely earned media.
In practice, though, press releases are at the intersection of paid and earned media because they offer the benefits of both kinds of media in a single package. Syndicated press releases on the top crypto publications are often hard to distinguish from organic news stories, thus making similar impact as earned media.
The best possible PR outcome for a crypto project is to receive exclusive coverage from a top crypto publication. This is a rare occurrence and often requires skillful pitching, precise timing, and a deep understanding of the kind of angle the publication is looking for.
Here's an example of such exclusive coverage.
What About Distribution?
Writing a high-quality press release is only half the job done. To reach the right journalists and publications, you need a top-notch distribution partner.
Crypto press release distribution services like Chainwire deliver your story to the most prominent crypto publications and journalists, maximizing your brand's chances of getting earned media in publications such as: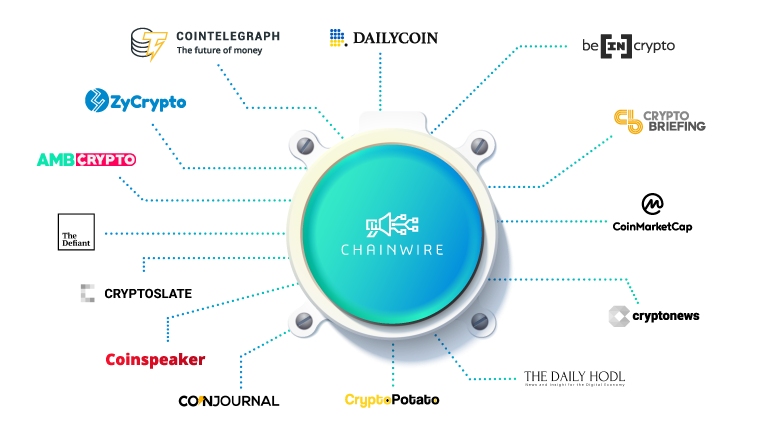 Sign up for an account, choose a package that meets your requirements, and start reaching your target audience with a few clicks.
How to Optimize Your Earned Media
To get the most out of your earned media strategy, we recommend the following:
Improving your owned media channels.
Sharpening your pitching skills.
Leveraging your paid media channels.
Want to learn more? Check out our detailed guide on earned media in crypto.
Owned Media
Owned media can be described as all the communication channels and platforms you own and control. For example:
Website
Social media
Newsletter
Blog
Ethereum's website is an example of utilizing owned media.
Apart from disseminating information to your intended audiences, owned media channels also have a significant impact on establishing trustworthiness with your users since it's usually the first point of contact between your customers and your brand.
Furthermore, a skillfully crafted website, an informative blog and newsletter, and social media accounts with engaging content contribute significantly to fostering an active community centered on your blockchain project.
How to Optimize Owned Media
Here are some tips for you to ensure your owned media channels are performing at their maximum potential:
Define your target audience and create content specifically catering to their needs.
Find out what your audience is searching on google through keyword research, and create blog posts that answer their questions.
Create high-quality, engaging content that has the potential to go viral and get you more earned media.
Maintain a consistent brand voice across all owned channels to provide a cohesive experience to your customers and establish a brand personality.
Optimize your website with the right keywords, meta descriptions, and title tags. Make sure it's user-friendly and gives users a reason to stay.
Use your social media channels to support your owned media by sharing your owned content there and managing conversations.
Paid Media
Paid media refers to media channels where you can buy ad space or simply pay to have your message displayed for a fixed duration. Examples of paid media are:
Google
Facebook
Twitter
Instagram
LinkedIn
Youtube
Here's an example of a Facebook ad as paid media:
Research tells us around 26% of social media users actively buy products they see advertised on social media. That's over a quarter of the total audience – a number that signifies the potential of paid media for crypto.
Digital PR also falls in the domain of paid media and includes:
Paid influencer marketing
Product placement on tv shows
Mentions or appearances on podcasts and vlogs
Press releases via PR distribution services such as Chainwire
The main advantage of paid media is that you have total control over the message, unlike earned media, where the discussion is beyond your immediate control. This makes paid media ideal for improving brain awareness and generating leads.
On the other hand, paid media is not as credible as earned media, and users are increasingly skeptical of paid advertising. According to a HubSpot research, 91% of users find ads to be more intrusive than ever before.
How to Optimize Paid Media
Start with understanding your regulatory environment when creating a paid media strategy. Some paid media channels may not be allowed to run ads for crypto.
There are plenty of media channels to choose from. Prioritize the ones that align with your audience's interests and your campaign objectives.
For the best ROI, target your customers as accurately as possible. This is only possible through research, insight, and detailed customer personas.
Use retargeting to repackage your offer in more attractive ways to convert users.
Analyze and adjust as you go. Monitor the analytics reports, run A/B tests, and continuously optimize for success.
Conclusion
Earned, owned, and paid media are three cogs in the same machine. Each has its own place and use in a strategic crypto PR plan.
While earned media is the most credible communication platform, it comes with the potential lack of control over the narrative. However, if you can harness its power effectively, earned media has massive ROI potential in an environment dominated by emotions.
Owned media gives you absolute control over the messaging and gives you a chance to tell your customer who you are. It's great for brand building and can even get you earned media if your content is high-quality.
And finally, paid media has the power to reach and retarget your customers the way you want. It may rank low on credibility but works well for brand awareness and lead generation.
Press releases remain a vital element of crypto PR. At the intersection of paid and earned media, press releases have the power to put your story in front of the right audiences, including the top crypto journalists, publications, investors, influencers, and enthusiasts.
With Chainwire as your partner, you can expect guaranteed homepage visibility on the top news and crypto publications around the world in up to 11 different languages. Sign up for your account today for free and check out the platform, or get in touch with us through Telegram to learn more.