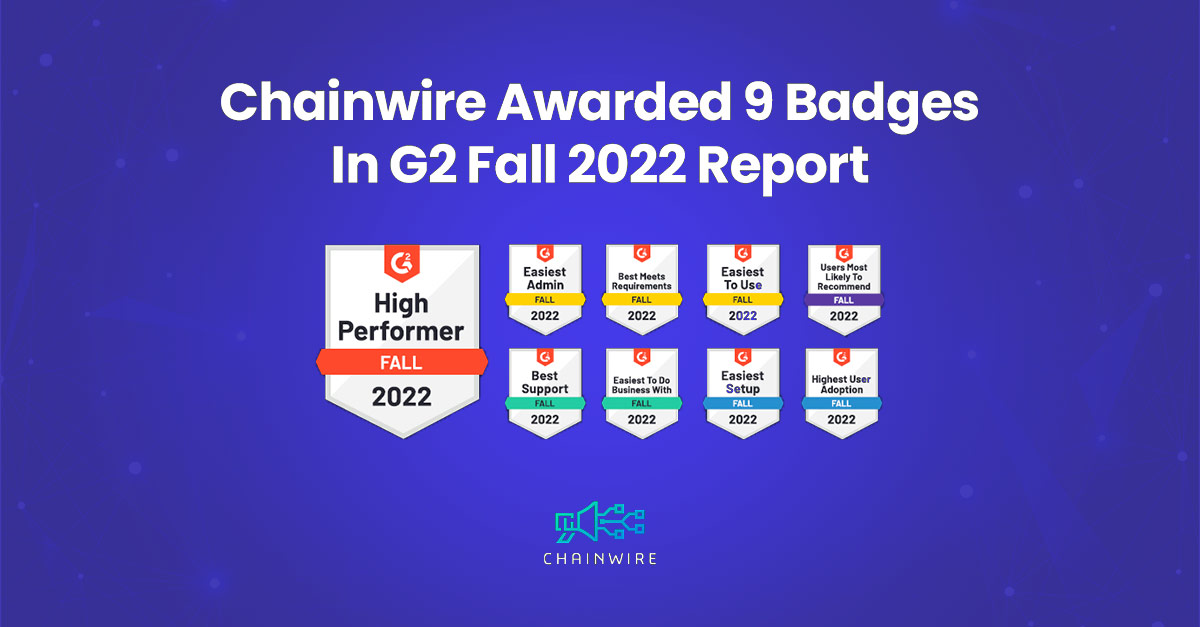 08Nov
Chainwire Scoops Nine Excellency Badges in Software Giant G2's Fall Report
It's been a good year for Chainwire and for our growing list of Web3 clients.
Our crypto newswire syndication service continues to go from strength to strength and the progress we've made has been recognized in the recent Fall report by G2, where Chainwire has been awarded no less than nine excellency badges as voted by our users.
Honors we're now proud to call our own include the coveted High Performer, Users Most Likely to Recommend, and Highest User Adoption. Our efforts in providing a best-in-class crypto PR service have also been acknowledged with the following badges:
Best Meets Requirements
Easiest Admin
Easiest Setup
Easiest To Do Business With
Easiest to Use
Best Support
More than 60 million people use G2's smart software including employees at all of the Fortune 500. Genuine peer reviews are used to determine the recipients of the excellency badges G2 bestows. The quarterly reports published by the software titan are based on ratings by business professionals.
"Rankings on G2 reports are based on data provided to us by real software buyers," explains Sara Rossio, Chief Product Officer at G2. "Potential buyers know they can trust these insights when researching and selecting software because they're rooted in vetted, verified, and authentic reviews."
The Cryptosphere's Go-To Press Release Distribution Service
When we founded Chainwire, we wanted to solve two main problems:
The absence of an automated blockchain PR distribution service
The shortcomings in "pray and spray" newswire distribution services
With Chainwire, there's no need to "publish and hope," no praying, and no spraying. While we distribute our clients' stories far and wide, we favor a blockchain-targeted approach. We publish on relevant industry news platforms and in the leading Web3 media outlets.
Clients simply upload their press release and Chainwire takes care of the rest. That includes optimizing the content to maximize impact and then syndicating cross-industry publication to ensure the story gets seen everywhere that matters. Near real-time analytics allow the client to sit back and watch the results flow in.
Given the emphasis we place on onboarding and UX, we're particularly happy to have been awarded the titles of Easiest Setup, Easiest to Use, and Best Support. Nevertheless, we know we can still do more to make Chainwire even better. We're grateful to our clients for their ongoing support, and we welcome their ongoing feedback.
If you've any suggestions as to how Chainwire could be improved, we'd love to hear from you. It's been a productive year as, in lockstep with our blockchain clients, we've shrugged off the bear market to keep building, shipping, and publishing. Stick around, because the best is yet to come.