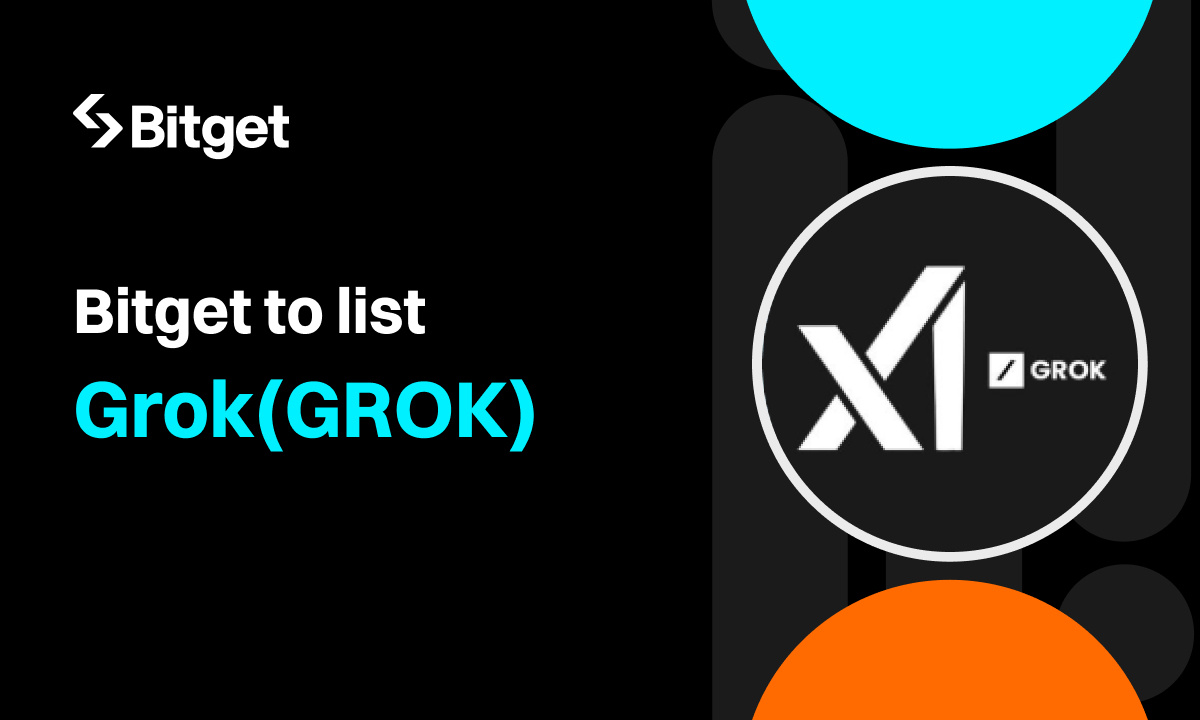 10Nov
Bitget Lists GROK To Support Explores AI-Powered Future Of Blockchain
Victoria, Seychelles, November 10th, 2023, Chainwire
 Bitget, the world's leading cryptocurrency exchange and Web3 company, is glad to announce the listing of GROK(GROK), a token inspired by the innovative AI chatbot project developed by xAI. This reflects its commitment to embracing groundbreaking technologies that have the potential to redefine the blockchain space. Bitget will commence trading of GROK on November 10th 2023, at 10 AM (UTC).
GROK(GROK), is a meme coin inspired by the Grok project, which is developed on the whimsical intellect of "The Hitchhiker's Guide to the Galaxy," and represents a leap in artificial intelligence. Designed to assist humanity in expanding its collective understanding and knowledge, GROK-1, the AI's latest iteration, has demonstrated extraordinary capabilities and achieved impressive results on numerous benchmarks.
The infrastructure behind GROK is as remarkable as its personality. xAI has prioritized efficiency in Language Model (LLM) training, leveraging a custom training and inference stack that includes Kubernetes, Rust, and JAX. This focus on maximizing compute per watt has enabled large-scale training across tens of thousands of GPUs, offering unparalleled reliability and model performance.
Gracy Chen, Managing Director of Bitget, said "The field of artificial intelligence (AI) is advancing at an unprecedented pace and rapid development is crucial as AI tools become more integral to various sectors, driving innovation and efficiency across different industries and sectors. Against this backdrop, the listing of GROK is not just about adding another asset to our platform; it's about looking forward and embracing the future convergence of AI and blockchain technology. Bitget is not only committed to expanding our Spot Market with high-caliber choices but also to being at the forefront of supporting technological innovation. "
With over 255 new listings added in the last three quarters alone, Bitget's Spot Market is rapidly becoming a hub for quality and diversity in the cryptocurrency sphere. As the platform continues to grow, Bitget reaffirms its promise to its users: offering opportunities to invest not only in popular assets but also in pioneering ones.
About Bitget
Established in 2018, Bitget is the world's leading cryptocurrency exchange and Web3 company. Serving over 20 million users in 100+ countries and regions, the Bitget exchange is committed to helping users trade smarter with its pioneering copy trading feature and other trading solutions. Formerly known as BitKeep, Bitget Wallet is a world-class multi-chain crypto wallet that offers an array of comprehensive Web3 solutions and features including wallet functionality, swap, NFT Marketplace, DApp browser, and more. Bitget inspires individuals to embrace crypto through collaborations with credible partners, including legendary Argentinian footballer Lionel Messi and official eSports events organizer PGL.
For more information, visit: Website | Twitter | Telegram | LinkedIn | Discord | Bitget Wallet
For media inquiries, please contact: media@bitget.com