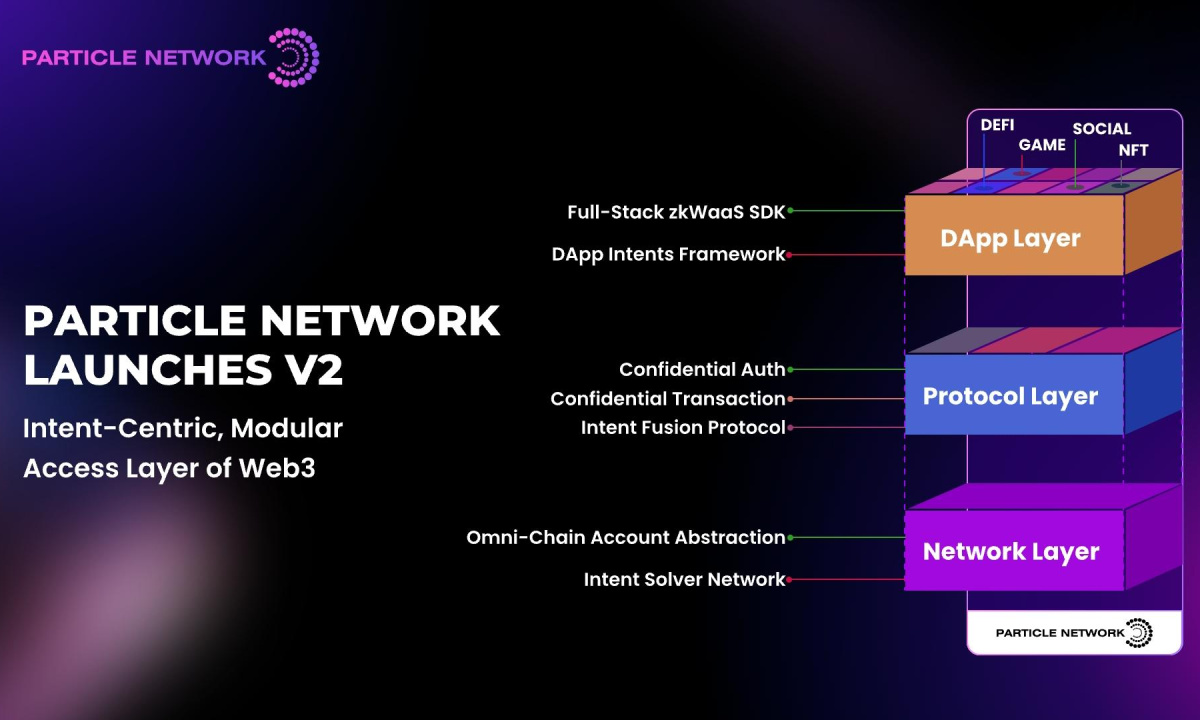 12Sep
Particle Network Launches V2 of Its Intent-Centric Modular Access Layer of Web3
Singapore, Singapore, September 12th, 2023, Chainwire
Web3 infrastructure provider Particle Network has unveiled V2 of its Wallet-as-a-Service (WaaS) solution. Major enhancements have been made to privacy, user experience, and transaction efficiency with the latest version, making it the most advanced web3 product of its kind.
V2 was designed with a focus on future-proofing web3 infrastructure, making WaaS adaptable to shifts in user behavior and blockchain architecture. Its design adheres to web3's fundamental principles of user sovereignty and composability.
WaaS launched 10 months ago with the goal of abstracting the complexity of interacting with decentralized applications and delivering a superior user experience. Particle Network also configured Wallet-as-a-Service with privacy paramount. With V2, significant attention has been lavished on bolstering these features.
Particle Network CEO Wang Pengyu said: "Particle Network V2 marks a significant leap forward in the web3 wallet infrastructure landscape. Our commitment to building the access layer of web3 has driven this innovation. With the introduction of ZK technology and the Intent Fusion Protocol, we're ushering in a new era of individual sovereignty and transaction efficiency. V2 is not just a product upgrade; it's a testament to our dedication on making web3 accessible to all."
V2 introduces a number of new technologies including a zero knowledge (ZK) component and a protocol layer that prioritizes user privacy and security. This takes the form of Intent Fusion Protocol, which sits between the blockchain and dapp layers to support confidential transactions and authentication. Intent Fusion Protocol simplifies user interaction by automating user intent structuring, deconstruction, and execution. This allows users and developers to focus solely on building intents, resulting in a better user experience.
zkWaaS ensures user login privacy and streamlines the management of web3 credentials while preserving a seamless user experience. V2 also introduces Smart Stealth Addresses, which allow users to interact with third parties using temporary, one-time addresses. Furthermore, zkWaaS addresses user privacy concerns with Confidential Auth and Confidential Transactions. It aligns with the goal of onboarding web2 users seamlessly into web3, ensuring both privacy protection and user-friendliness.
With Wallet-as-a-Service, Particle Network has empowered developers to deliver web3 experiences that meet the demands of today's users. This means creating an environment in which user experience is optimized without introducing security or privacy trade-offs.
V2 represents a breakthrough in user interaction and transaction efficiency. It accelerates the transformation toward an end-state where users can access web3 products and services with the lowest possible barriers to entry, without compromising self-sovereignty. In addition, V2 introduces better data management tools, preventing onchain leakage of user information.
Wallet-as-a-Service V2 is Particle Network's most advanced consumer-facing product to date. It equips developers with the framework for delivering an array of sophisticated blockchain-based services including cross-chain solutions. Meanwhile, its focus on eliminating friction results in a seamless user experience that ensures dapps can realize their full potential.
About Particle Network
Particle Network is a Web3 infrastructure project. Its primary offerings include zkWaaS (Zero-Knowledge Proof Wallet as a Service) and the Intent Fusion Protocol. By creating an Intent-Centric Modular Access Layer for Web3, Particle Network is committed to transforming the industry from engineer-friendly finance to consumer-friendly markets.
Learn more: https://particle.network/