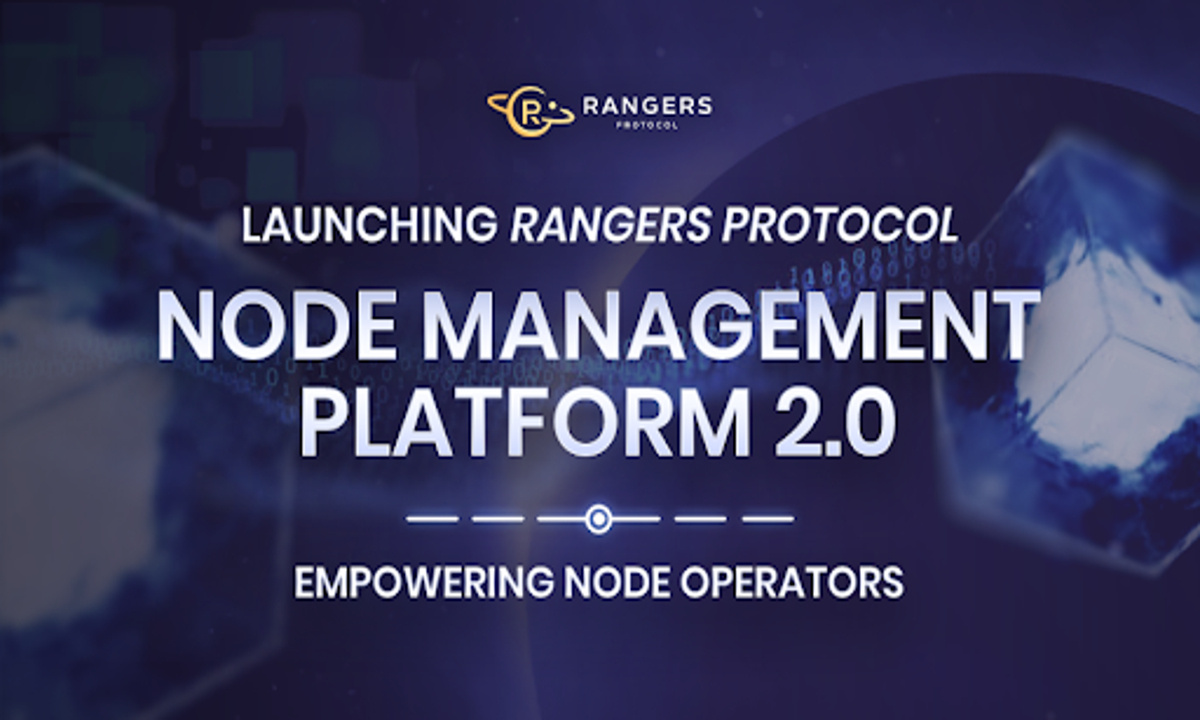 18Aug
Launching Rangers Protocol Node Management Platform 2.0: Empowering Node Operators
Singapore, Singapore, August 18th, 2023, Chainwire
Rangers Protocol is excited to unveil its Node Management Platform 2.0, an innovative multi-functional tool designed to provide comprehensive support in node hosting. This major update not only streamlines the process for users to become verification nodes but also introduces powerful features such as the Delegated Staking System. This upgrade is a testament to Rangers Protocol's commitment to fostering an efficient and inclusive blockchain ecosystem.
Background
Rangers Protocol has consistently enabled users to access a high-performing Mainnet blockchain, a secure Connector for cross-chain transport and public chain interconnection, an optimized Sub-Chain for gaming AppChains, and a fully Ethereum-compatible REVM. Its comprehensive infrastructure has made it an essential tool for the Web3 ecosystem.
A recent highlight of Rangers Protocol's capability was its support for MetaCene, a post-apocalyptic MMORPG. Successfully deployed on Rangers Protocol's Robin Testnet, MetaCene showcased the performance and scalability of Rangers Protocol's blockchain technology. This application, among others, illustrates the potential of Rangers Protocol in fostering an efficient and decentralized Web3 ecosystem.
Introducing Node Management Platform 2.0
Rangers Protocol's Node Management Platform 2.0 is a one-stop solution for all user needs in node services and portfolio management. It offers features that cater to a wide range of users, from expert miners and investors to blockchain enthusiasts.
Main Features
Wallet Account Management & Top Up: Users can easily register or log in using their email address, top up their hot wallets, and review top-up history.
Aggregated Application Processes: Node server purchasing, validator application, and mine owner application are now consolidated under one dashboard, offering users greater flexibility and ease of navigation.
Validator Center for Delegated Staking: Users can view, add, and look up all active validator nodes under the Validator Center, and review information about delegators, stakings, and rewards.
Delegated Staking System: This integrated system enables ecosystem nodes to open for delegations and benefit from customized commissions, while mass investors can delegate their RPG tokens to preferred nodes and enjoy distributed rewards.
Node Hosting Management: Users can review and modify their nodes and delegate under the Portfolio tab, including real-time node data on the Rangers Protocol decentralized network.
Data Interface: Users can view ecosystem nodes, monitor earnings, and gain quantitative insight on node performances with the Calculator feature.
Redefining the Node Management Experience:
The release of Node Management Platform 2.0 represents more than just an update — it is a transformative shift towards a more cohesive and intuitive experience for node operators. Rangers Protocol has consolidated essential features under a single dashboard, streamlining the process and simplifying navigation to make it easier for even those new to the blockchain industry to join the RP verification network. Furthermore, the addition of the Calculator feature provides miners with insights into their income and earnings, making monitoring straightforward and transparent. This new platform is not only accessible and user-friendly but also affordable, allowing users to join for free and rent a node at an industry-competitive price of 300 $USDT per month. By doing so, they can tap into the vast potential of the decentralized ecosystem and gain steady $RPG rewards. This comprehensive approach ensures that node hosting is more accessible, efficient, and rewarding than ever before, setting a new standard in the field of node management.
"Rangers Protocol is revolutionizing node hosting and management with the launch of Node Management Platform 2.0. With its advanced features and user-friendly interface, we are empowering node operators and setting new standards in the blockchain industry." – Nicolas Zhu, CBO, Rangers Protocol
Rangers Protocol's Node Management Platform 2.0 reaffirms the company's commitment to fostering an efficient and inclusive blockchain ecosystem. With its comprehensive features and user-centered design, it offers unprecedented value to node operators, setting a new benchmark for node hosting and management. As the blockchain industry continues to grow, Rangers Protocol's cutting-edge solutions are poised to play a pivotal role in shaping the future of this technology.
About Rangers Protocol
Rangers Protocol is the backbone of a Web3 engine for creating immersive Web3 applications. It minimizes the development difficulty for Web3 developers and maximizes the user experience of its Web3 applications. Rangers Protocol provides comprehensive infrastructures for efficient complex-app development, successful cross-chain and mass distribution, diverse in-app NFT and DeFi features, and more. Through its full EVM compatibility, strategic industry partnerships, and curated all-in-one IDE, Rangers Protocol supports AAA and indie developers to succeed in the Web3 world.