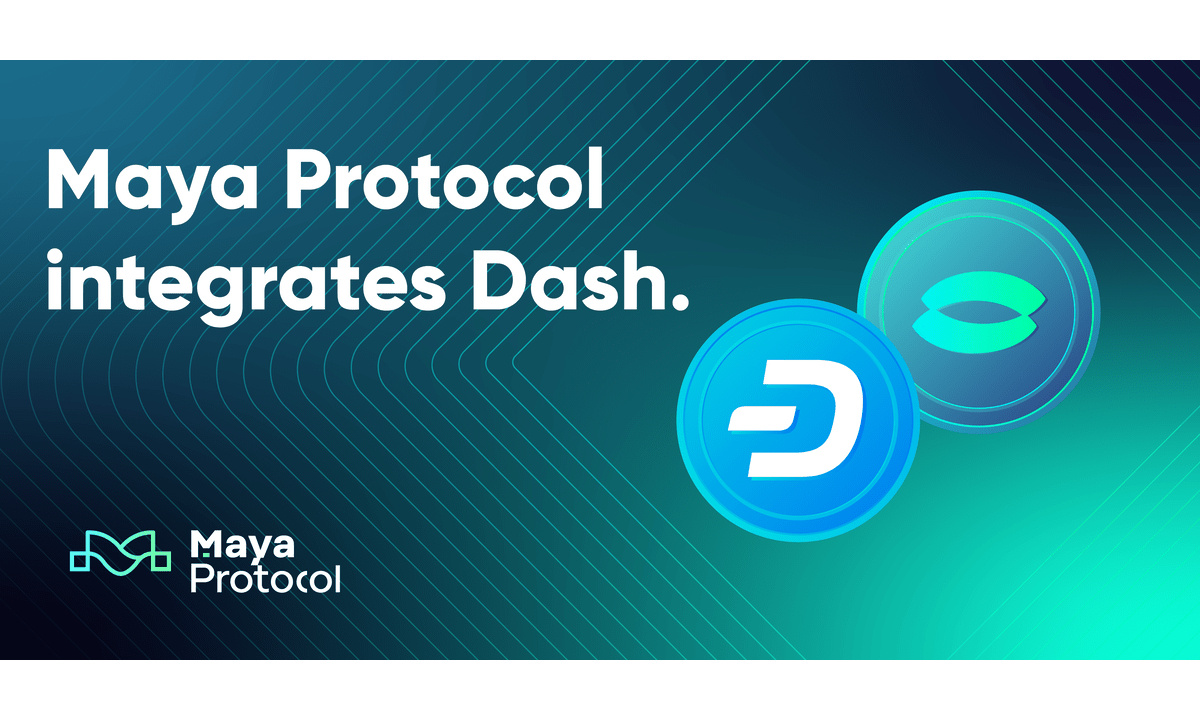 04Aug
Pioneering New Frontiers: Maya Protocol and Dash Announce New Integration
Mexico, Mexico, August 4th, 2023, Chainwire
In a significant move for DeFi, today, Maya Protocol announced an integration with the Dash blockchain. The move marks the first time Dash users can trade and earn using a decentralized and permissionless exchange.​​
Maya Protocol is a decentralized liquidity protocol that allows users to easily exchange cryptocurrency assets across a range of networks, natively and without losing custody of their tokens and in a permissionless manner.
Dash is one of the oldest cryptocurrencies in circulation, focused on speed, privacy, and self-governance. A vibrant community and dedicated group of developers ensure that Dash's technology continually improves and their adoption as a means of payment grows. Dash is one of the most usable cryptocurrencies today, with a wide range of integrated services facilitating its use as digital cash.
Bringing Dash into Maya adds a new layer of connectivity in the ecosystem, allowing for seamless exchange between Dash and other crypto assets like BTC, ETH, USDT, RUNE, and CACAO, all without relying on centralized intermediaries. The inherent benefits of Dash – speed, privacy, and self-governance – naturally complement Maya's mission of enabling fluid cross-chain liquidity with as little friction as possible. Dash will also be the first chain that Maya handles exclusively, and that is not shared with THORChain.
Maya will also benefit from the increased exposure to Dash's vast user base, loyal community, and options for spending as digital cash in the real world. Retail users will gain more opportunities for trading and getting yield on their Dash tokens.
The integration of Dash into Maya isn't just about the mutual growth of both protocols but also about the evolution and progress of the entire decentralized finance ecosystem. Integrations such as these illustrate the power of DeFi, specifically interoperability, and composability.
With this integration, Maya and Dash demonstrate their commitment to driving innovation in decentralized systems and disrupting traditional finance models. To learn more about this integration, please refer to the Dash and Maya official web resources and their protocols.
About Dash
Dash is a next-generation digital currency focused on becoming the best digital cash. Dash has solved many of the problems inherent in Bitcoin by speeding up transactions, offering enhanced privacy, and developing a decentralized governance and funding system. Dash Social Media: Website, Twitter, Discord.
About Maya Protocol
Maya Protocol is a decentralized cross-chain liquidity protocol that facilitates asset trading directly from user wallets, maintaining full custody and control. It is paving the way for the future of DeFi by offering a decentralized, secure, and efficient platform for cross-chain interaction. Maya Social Media: Website, Twitter, Discord.