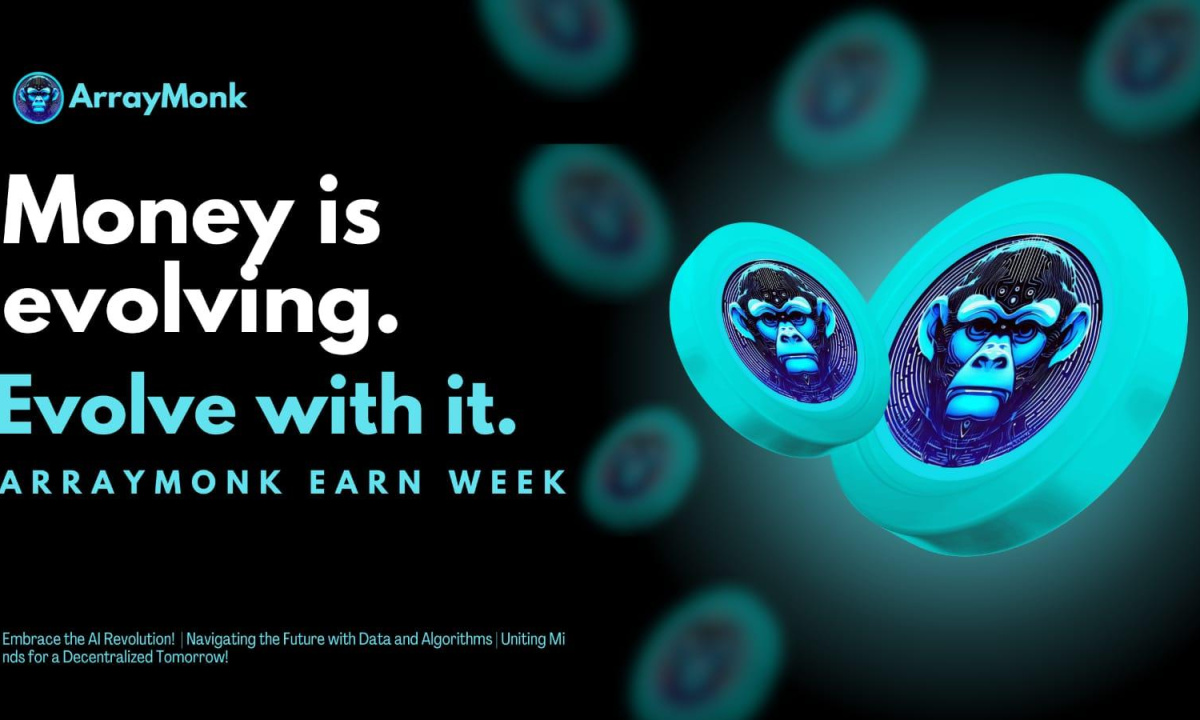 29Jul
ArrayMonk ($AMK) Launches PreSale On August 1st
City: Sligachan, United Kingdom, July 29th, 2023, Chainwire

ArrayMonk is proud to announce, that it'll kickoff the ICO presale on 1st August, offering users a chance to purchase $AMK tokens at the opening price of just $0.01 each. The team believes ArrayMonk will be a game-changing project that's set to revolutionize the crypto world, creating a token that brings together blockchain technology and swag.
ArrayMonk boasts a real, tangible product – a cutting-edge mobile application that's here to elevate user's crypto experience, while providing utility to the ($AMK) token unlike most memecoins that rely solely on trading volume.
With the ArrayMonk app, users can unlock a world of possibilities. Users can seamlessly engage in peer-to-peer transactions, making it easier and faster to trade and interact with their favourite tokens. No more struggling with complicated processes – ArrayMonk streamlines the entire experience for it's users.
In addition, the ArrayMonk's mobile application also offers secure and user-friendly wallet services, providing users with a safe haven for all their digital assets, whilst promoting peace of mind.
The ($AMK) token combines the power of blockchain technology with the swag users crave. ArrayMonk is not just another run-of-the-mill coin; it's a symbol of innovation and practicality in the crypto world.
The ArrayMonk community shop has accessories available at the AMK SHOP, where users shop for various items found here: https://array-monk.myspreadshop.ca/

By participating in ICO presale, users can purchase the ($AMK) token and join a vibrant and forward-thinking community that's excited about the future of crypto. ArrayMonk brings a powerful combination of blockchain technology and swag, creating a unique project that stands out from the rest. The team is committed to ensure that ArrayMonk gets the recognition and exposure it truly deserves.
About ArrayMonk
To learn more about ArrayMonk and its innovative features, visit our website at to connect with our community and stay updated on the latest developments.
Only use the Official links and beware of Scammers.
Website: https://www.arraymonk.com
Twitter: https://twitter.com/array_monk
Telegram: https://t.me/arraymonk_group
Coin Market Cap: https://coinmarketcap.com/community/profile/arraymonk/
Token Contract: https://bscscan.com/token/0xc425476ad8dd40737da27bc4e2aee35695cb5704
Audit Report: https://coinsult.net/projects/arraymonk
ArrayMonk is the source of this content. This Press Release is for informational purposes only. The information does not constitute investment advice or an offer to invest.