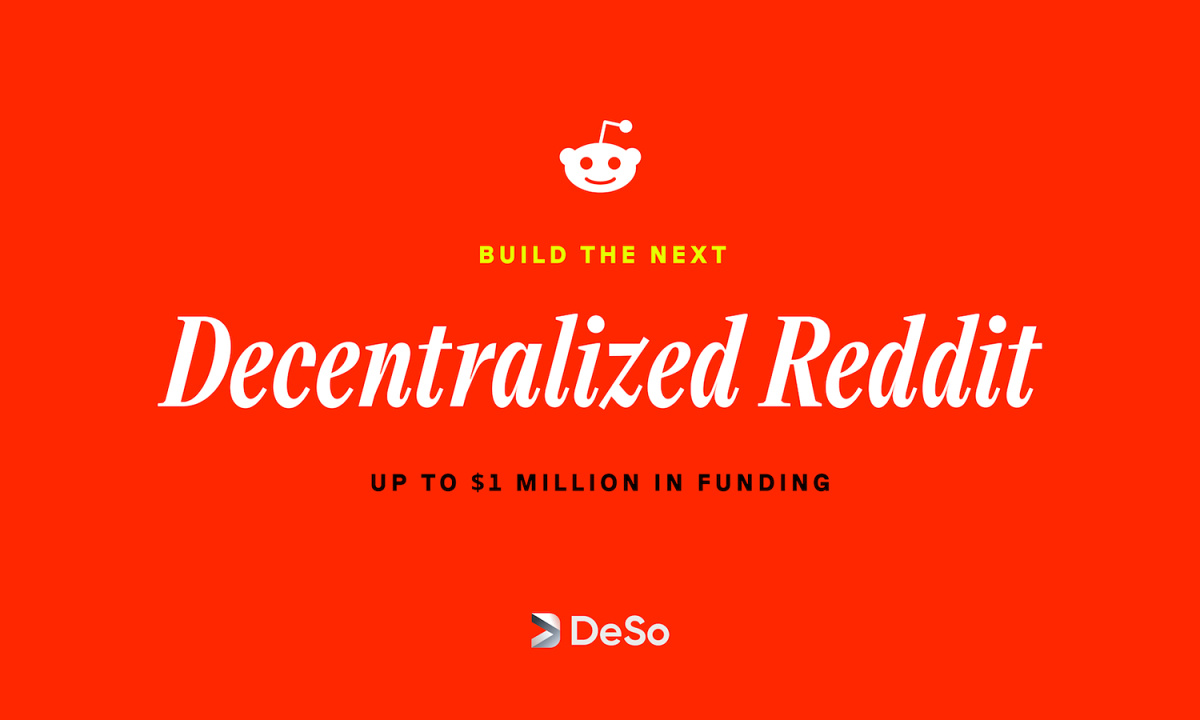 06Jul
DeSo Offers $1M Bounty for Decentralized Reddit Competitor Amid API Changes
Los Angeles, California, July 6th, 2023, Chainwire
DeSo, the leading layer-1 blockchain for decentralizing social media, has issued a groundbreaking challenge: a $1 million bounty for visionary founders capable of building a decentralized competitor to Reddit using its infinite-state blockchain. This unprecedented opportunity arises amid escalating discontent with centralized social media platforms, which monopolize content and data.
Reddit recently sparked controversy within its community following a decision to limit API access. This move provoked a series of 48-hour subreddit blackouts in protest. This price hike for their API has forced existing third-party developers to shut down as maintaining their applications becomes impossible.
As Reddit prepares to go public, it is paving the way for fresh products and its in-house developer platform. Reddit CEO Steve Huffman revealed an interest in capitalizing on the platform's wealth of data: "The Reddit corpus of data is really valuable," he commented. "But we don't need to give all of that value to some of the largest companies in the world for free."
This controversy and others highlight the ongoing problems with centralized social media platforms. It's not just Reddit; the landscape of web2 social media is changing. Over the past weekend, Elon Musk temporarily restricted the number of posts Twitter users can read per day, inciting significant backlash: 
"To address extreme levels of data scraping & system manipulation, we've applied the following temporary limits: Verified accounts are limited to reading 6000 posts/day, Unverified accounts to 600 posts/day, and New unverified accounts to 300/day".
Against this backdrop, DeSo is rising as a viable challenger. 
Positioned at the forefront of social media disruption, DeSo offers up to $1M to support builders ready to architect an on-chain alternative to Reddit. This opportunity facilitates the creation of a user-led, creator-owned decentralized platform, one where you own your content as securely as you own your Bitcoin.
DeSo's founder, Nader Al-Naji, reflected on the recent dissatisfaction with Reddit: "These protests represent a broader societal shift. They are indicative of a new paradigm in how creators and users interact with social media. As trust in mainstream media and corporations falters, people are gravitating towards platforms that grant them autonomy over their content and social graph, much like owning Bitcoin does with money."
The DeSo Way
Imagine an on-chain Reddit where users hold full control over their content and cannot be censored or banned at the protocol level. This concept introduces the idea of 'community as an asset,' where users and moderators can directly own and monetize their content, transitioning from mere respect and clout to tangible rewards.
This is only possible on the DeSo blockchain, which offers novel monetization features, including creator coins, NFTs, tokens, tipping, etc. With DeSo, your identity, profiles, content, and social graph are 100% on-chain, fostering a censorship-resistant layer where the community can moderate at scale instead of a centralized gatekeeper.
This is a call to arms for ambitious founders and builders who want to make lasting changes to social media the DeSo way.
Investment and Applicant Criteria
DeSo is prepared to invest up to $1M to fund a Reddit competitor built on its platform. Ideal candidates are seasoned founders with robust technical expertise and a proven history of building consumer products from the ground up.
Candidates should thoroughly understand DeSo's vision for a decentralized Reddit and have strategies for user acquisition and engagement in a crypto-native way. 
An enticing pitch demonstrating early signs of positive user feedback and usage is also expected. All applications should be submitted on Openfund.com to enable detailed evaluation.
For comprehensive instructions on how to apply and more information about how to apply, please read our original proposal and our formal announcement.
Once fully comprehended the opportunity at hand, please submit your proposal with all relevant links here.
About Deso
Raising $200 million from leading investors such as Sequoia, Andreessen Horowitz, Coinbase Ventures, and more, DeSo is a pioneering layer-1 blockchain whose mission is to decentralize social media, much like Bitcoin and Ethereum have decentralized finance. 
Recently, DeSo has unveiled an array of groundbreaking innovations. Among these is Revolution, their breakthrough Proof-of-Stake mechanism, set to boost energy efficiency by 99% and position DeSo as one of the most deflationary layer-1s in all of crypto.
Additionally, Deso released four new app proposals, including Openfund 2.0, a DEX that works as seamlessly as centralized exchanges like Binance, allowing nearly instantaneous and anonymous trades while allowing users to maintain custody of their coins.