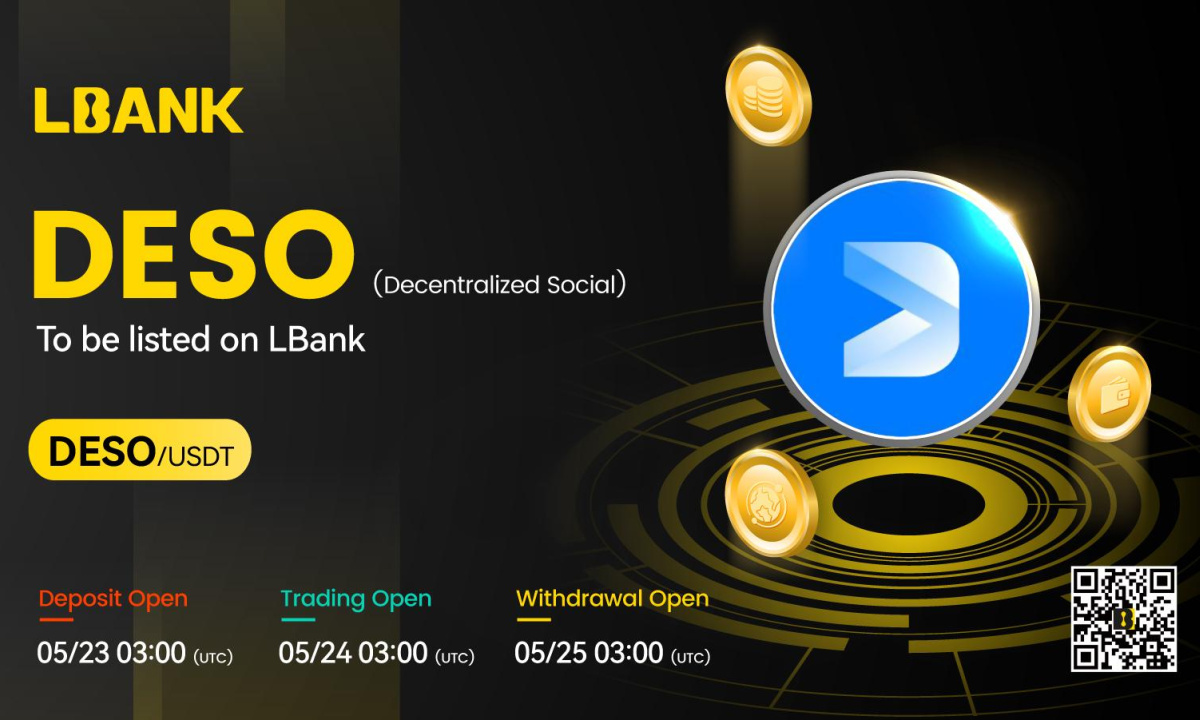 26May
Decentralized Social (DESO) Is Now Available on LBank Exchange
Road Town, BVI, May 26th, 2023, Chainwire
LBank Exchange, a global digital asset trading platform, listed Decentralized Social (DESO) on May 24, 2023. For all users of LBank Exchange, the DESO/USDT trading pair is officially available for trading.
Reimagining the world of social, DeSo is the first layer-1 blockchain built from the ground up to decentralize social media and scale storage-heavy apps to billions of users. Its native token Decentralized Social (DESO) was listed on LBank Exchange at 3:00 UTC on May 24, 2023, to further expand its global reach and help it achieve its vision.
Introducing DeSo
DeSo, short for "decentralized social", is a new layer-1 blockchain built from the ground up to decentralize social media for billions of users. It is empowering an internet that's creator-led, user-owned, and open to millions of developers around the world to build off one another.
Today, there's only a handful of big-tech companies that own and control all the information people consume online. DeSo puts the ownership back in the hands of users, not platforms. User's identity, profile, content, and social graph can now be owned by themselves in a completely censorship-resistant way.
The DeSo blockchain supports not only traditional social features like creating profiles and posts, but also novel blockchain-native features like social tokens (creator coins), tipping, and NFTs. These features unlock vast new categories of money-enabled products, from social NFT experiences to influencer stock markets. These features enable creators to more effectively monetize their content and connect with their followers on DeSo-powered apps.
In addition, developers can build in a gasless, permissionless, and transparent environment where everything is open and on-chain for ultimate accessibility and composability. DeSo is built to support storage-heavy or infinite-state applications, opening up a new world of non-financial-based web3 apps that weren't possible before. New users can signup to DeSo apps like Diamond and earn $DESO for simply posting and engaging with other users on the platform.
DeSo's biggest advantage lies in the fact that it is not a general-purpose blockchain. Instead, it supports a narrow set of social-oriented features that it implements on bare metal, using custom indexes that every node builds during consensus when it syncs from its peers. This allows the DeSo blockchain to reach highly-scalable storage capabilities that are unparalleled by any general-purpose blockchain. For instance, the cost of 1 GB of on-chain storage on DeSo is as low as 1 DeSo, whereas even the best existing smart contract infrastructures require millions ($1,000,000+) of dollars to achieve the same.
With DeSo, people can now imagine, build and experience the next generation of web3 social. In the same way, people have seen Bitcoin and Ethereum decentralize finance, DeSo is now enabling this for social.
Deso is coming off a series of remarkable launches including their MetaMask integration which makes it easy for Ethereum users to login to DeSo apps in just a few clicks. Additionally, they've launched the groundbreaking MegaSwap, a anonymous no login cross-chain swapper for crypto, and OpenFund, which makes it easy for crypto projects to launch startups and get funded in just a few clicks.
Looking forward, they are gearing up for their transition to Revolution Proof-of-Stake, a monumental development that will enhance energy efficiency by 99% and establish DeSo as one of the most deflationary protocols in existence. Soon, you'll have the opportunity to stake your $DESO while earning rewards for securing the network. This innovative PoS mechanism enhances the schemes employed by Ethereum, Cosmos, Flow, and Solana, demonstrating DeSo's commitment to technological advancement.
Keep checking back as DeSo prepares even more announcements as they become a sovereign blockchain that enables anyone from anywhere in the world to launch decentralized, censorship-resistant apps that scale to billions of users!
About DESO Token
Decentralized Social (DESO) is the native token of DeSo ecosystem, which currently has 2M wallets and 85M transactions across 100+ applications built, resulting in $2B in transaction volume. Transactions on DeSo are virtually gasless, costing one-ten thousandth of a cent.
In addition, DeSo just announced a groundbreaking Proof-of-Stake mechanism called Revolution, leading to 99% more energy efficiency and becoming a far more deflationary protocol than has ever existed. Once completed, DeSo will inch closer to its final form, "The Sovereign Internet," featuring a "Decentralized Web," enabling developers to deploy censorship-resistant storage-intensive applications at scale from anywhere in the world.
DESO token was listed on LBank Exchange at 3:00 UTC on May 24, 2023, investors who are interested in DeSo can easily buy and sell it on LBank Exchange now. The listing of DESO token on LBank Exchange will undoubtedly help it further expand its business and draw more attention in the market.
Learn More about DESO Token:
Official Website | Twitter | YouTube | Telegram | Discord | Diamond | Explorer
About LBank
LBank is one of the top crypto exchanges, established in 2015. It offers specialized financial derivatives, expert asset management services, and safe crypto trading to its users. The platform holds over 9 million users from more than 210 regions across the world. LBank is a cutting-edge growing platform that ensures the integrity of users' funds and aims to contribute to the global adoption of cryptocurrencies.
Start Trading Now: lbank.com
Community & Social Media:  Telegram l Twitter l Facebook l LinkedIn l Instagram l YouTube