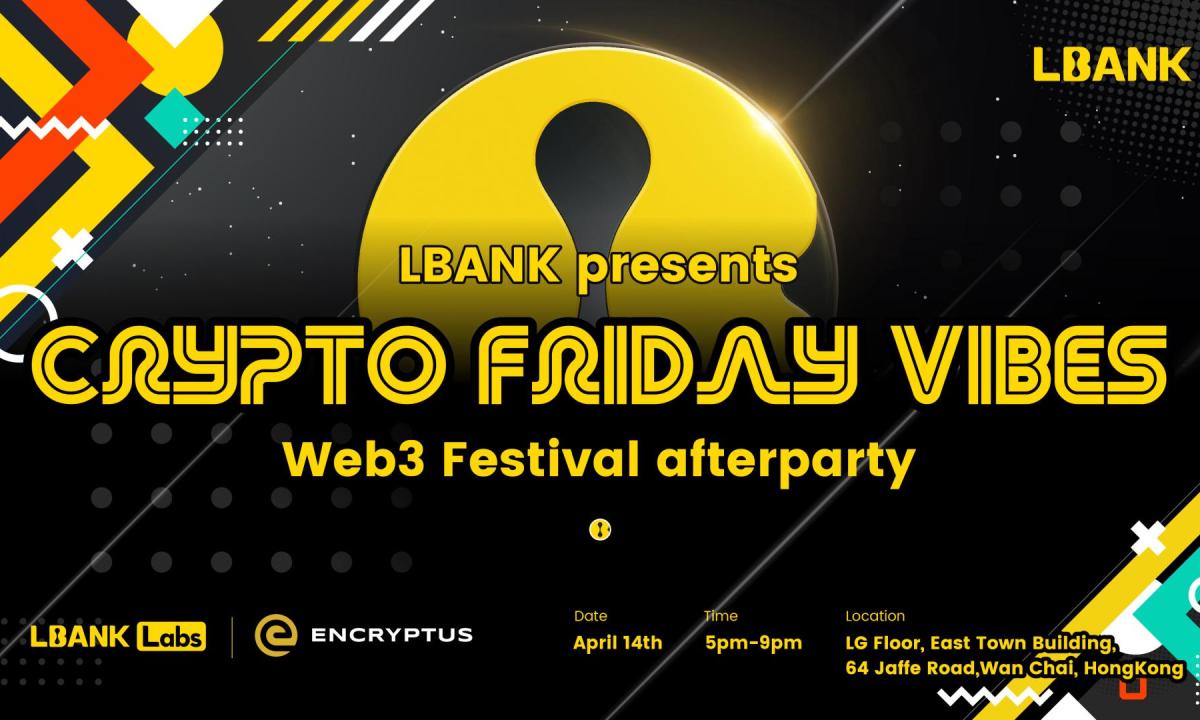 17Mar
LBank & Encryptus to Host Crypto Friday After-Party at Hong Kong Web3 Festival
Road Town, BVI, 17th March, 2023, Chainwire
Crypto exchange LBank and payout infrastructure company Encryptus are hosting an exclusive after-party on Friday, April 14 to celebrate the Hong Kong Web3 Festival. Guests will be able to enjoy a laid-back evening with crypto enthusiasts from some of the most exciting blockchain projects in the industry.
 The 2023 Web3 Festival will be hosted in Hong Kong starting April 12. An estimated 10,000 attendees and more than 100 web3 projects will attend the four-day conference. Bringing together developers, investors, and regulators, the web3 event serves to build partnerships and facilitate discussions about the burgeoning industry.
As official sponsors of this year's event, global crypto exchange LBank and its VC and blockchain accelerator arm LBank Labs will be exhibiting at the festival. Alongside payout infrastructure partner Encryptus, LBank will also host an exclusive after-party, inviting attendees and crypto enthusiasts to socialize and unwind.
 LBank's Marketing Head of Asia, Gabe Chan, commented: "Hong Kong is one of the best cities for hosting a web3 event. As a melting pot of east and west, the city embodies the spirit of 'openness and cooperation,' which fits perfectly with web3. We are very invested in Asia and see a lot of potential with home-grown web3 projects across the region." 
Global Events Director at LBank, Stojan Siljanovski, shared: "Inspired by the vibrant nightlife of the city, we wanted to treat our guests to an exciting evening of live music and refreshing drinks. We want to extend the festivity for a couple more hours and take the chance to meet some new friends."
The global exchange and its partners have a lot to celebrate. In February, LBank secured a Virtual Asset Provider registration in Italy, gaining regulatory approval to operate in the European country. LBank partnered with Encryptus in March to allow users access to Encryptus' licensed crypto and fiat payout network, streamlining its payouts in over 100 countries. LBank's investment arm LBank Labs also announced the establishment of a 100 million USDT fund for investing in blockchain and web3 technology in late 2022. The VC branch later revealed its investment thesis in January.
Tickets for the crypto after-party on April 14 can be purchased here.
About LBank
LBank is one of the top crypto exchanges, established in 2015. It offers specialized financial derivatives, expert asset management services, and safe crypto trading to its users. The platform holds over 9 million users from more than 210 regions across the world. LBank is a cutting-edge growing platform that ensures the integrity of users' funds and aims to contribute to the global adoption of cryptocurrencies.
Start Trading Now: lbank.com
Community & Social Media:
Telegram | Twitter | Facebook | LinkedIn | Instagram | YouTube