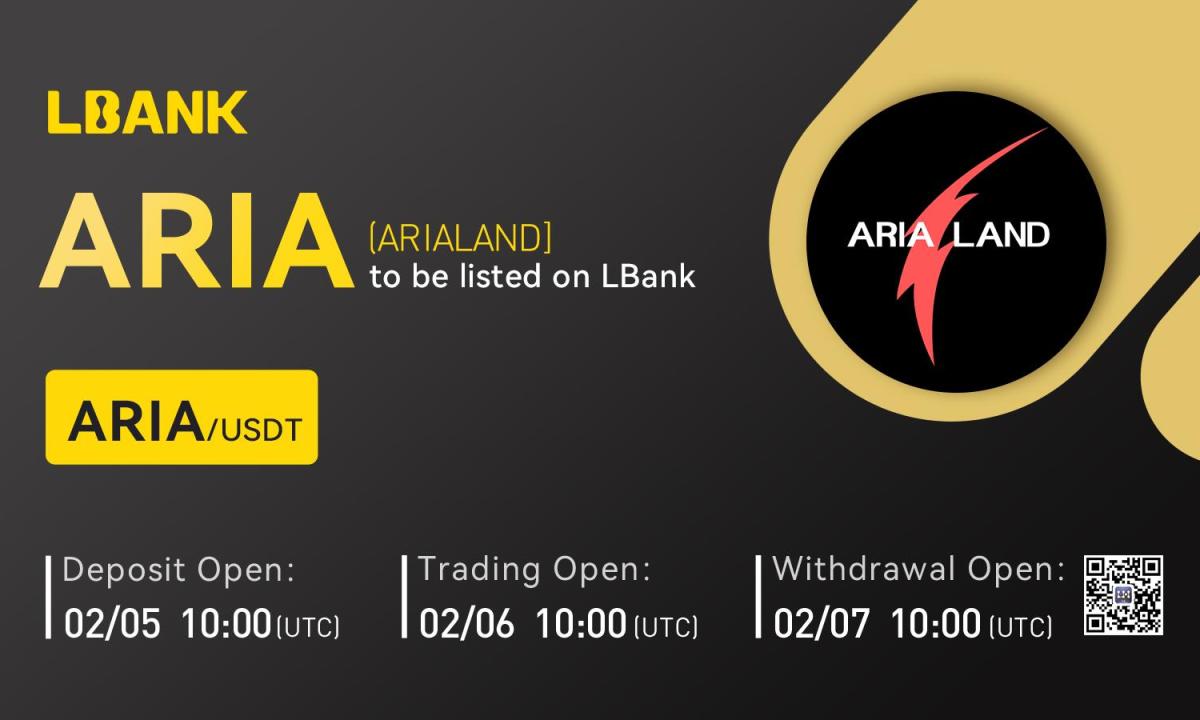 04Feb
LBank Exchange Will List ARIALAND (ARIA) on February 6, 2023
INTERNET CITY, British Virgin Islands, 4th February, 2023, Chainwire
LBank Exchange, a global digital asset trading platform, will list ARIALAND (ARIA) on February 6, 2023. For all users of LBank Exchange, the ARIA/USDT trading pair will be officially available for trading at 10:00 UTC on February 6, 2023.
As a blockchain-based metaverse platform, ARIALAND (ARIA) enables users to create and experience content themselves while generating revenue. Its native token ARIA will be listed on LBank Exchange at 10:00 UTC on February 6, 2023, to further expand its global reach and help it achieve its vision.
Introducing ARIALAND
ARIALAND is a virtual reality platform based on the Ethereum blockchain. Users create and experience content themselves, and generate revenue. The platform provides virtual real estate (land, building), and users can claim ownership of these virtual real estates through a blockchain-based ledger. ARIALAND's real estate is a non-fungible, transferable digital asset that is stored in an Ethereum smart contract. And these real estates can be purchased using ARIA ERC-20 tokens.
In addition to claim ownership through a self-identification program, users who own real estate can also build content NFTs such as various buildings and landmarks on the land, enabling various interactions such as trading and advertisement posting. Users can rent virtual offices, stores, etc. in their own real estate buildings, and earn profits accordingly through ARIA.
In order to let users easily acquire, maintain, and plan their own real estate, ARIALAND will preferentially sell NFTs through various open markets, implementing smooth services provided in the virtual world.
Since ARIALAND is decentralized and no one controls or regulates it, no one can hack, modify, or act as an agent for ARIALAND's contents and economic activities. The team hopes that through ARIALAND many and diverse users will come together to form a network and form a huge community on their own.
About ARIA Token
ARIA is the native token of ARIALAND ecosystem. With ARIA, ARIALAND develops an economic system that allows all users to earn profits as much as they put in their efforts. Users can earn revenue in a variety of ways – through virtual real estate, real estate arbitrage, or real estate rental and advertisement placement. Users can sell products within the platform, deliver, provide any service and earn a certain amount of money. Users can also deposit and stake ARIA through Aria Bank in ARIALAND to earn interest or safely store their assets.
Based on ERC-20, ARIA has a total supply of 2 billion (i.e., 2,000,000,000) tokens, of which 10% is burned, 10% will be used for marketing, 50% is allocated to the team and partners, and the remaining 30% is provided for reward, events and airdrop.
ARIA token will be listed on LBank Exchange at 10:00 UTC on February 6, 2023, investors who are interested in the ARIALAND investment can easily buy and sell it on LBank Exchange by then. The listing of ARIA token on LBank Exchange will undoubtedly help it further expand its business and draw more attention in the market.
Learn More about ARIA Token:
Official Website: https://www.ariacoin.info
About LBank
LBank is one of the top crypto exchanges, established in 2015. It offers specialized financial derivatives, expert asset management services, and safe crypto trading to its users. The platform holds over 7 million users from more than 210 regions across the world. LBank is a cutting-edge growing platform that ensures the integrity of users' funds and aims to contribute the global adoption of cryptocurrencies.
Start Trading Now: lbank.com
Community & Social Media:
Telegram l Twitter l Facebook l LinkedIn l Instagram l YouTube