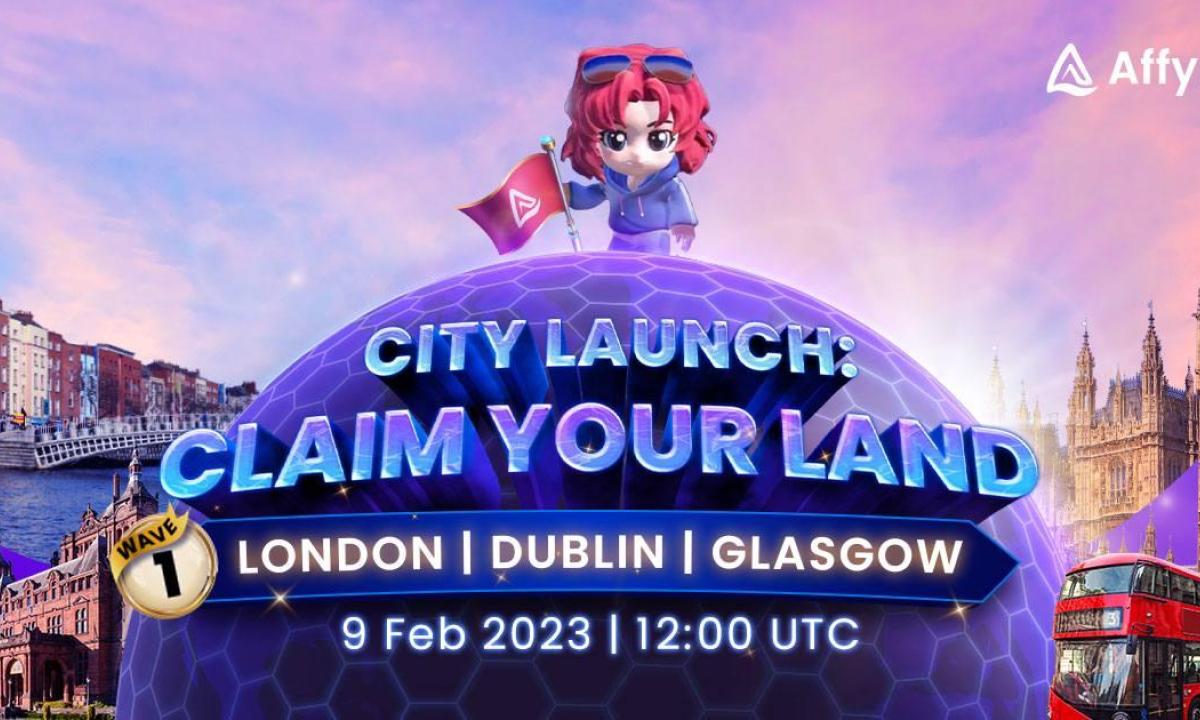 02Feb
Affyn Reveals The Next 44 Cities Set To Join NEXUS World Metaverse
Singapore, Singapore, 2nd February, 2023, Chainwire
City Launch Wave 1 will release 1,750 geolocation-based Land NFTs covering London, Dublin, and Glasgow
Fresh from the success of its "City Launch Wave 0," Singapore-based blockchain startup, Affyn, is preparing to launch London (750 plots), Dublin (500 plots) and Glasgow (500 plots) as part of Wave 1, in conjunction with the 44-city reveal of their flagship metaverse, NEXUS World.
Affyn's "City Launch Wave 1" is set to launch to the public on February 9, 2023, at 8:00 PM (GMT 8) / 12:00 PM (UTC), opening a path for eligible users to plant their "Flags" and claim virtual Land within the NEXUS World metaverse. These geolocation-based Land plots offer an opportunity for Landowners to co-build the economy of NEXUS World.
"We are on track for revealing all cities that we will feature in our NEXUS World metaverse, following Singapore, London, Dublin and Glasgow. We are deeply thankful to the community for continuously supporting our vision and their role in powering our success during the Wave 0 launch," according to Affyn's Founder & CEO, Lucaz Lee. "2023 will be a good year, and we can't wait to unravel more exciting developments on reaching the masses in the upcoming months."
In July 2022, Affyn's "Generation Zero" NFT collection was sold in its entirety in 100 seconds, underlining the robust ongoing interest in Web3 technology and the metaverse. Additionally, the startup raised upwards of 20 million $FYN tokens worth around USD$2 million on the first day of its "Flag" sales in October.
The full list of cities can be seen in the appendix at the end of this release. Click here for more information on NEXUS World Land sale.
– END –
About Affyn
Affyn is a Singapore-based company, using blockchain-powered technology, to develop mobile games with integrated geolocation and augmented reality capability. Affyn is pioneering the gaming model with a sustainable play-and-earn economy where rewards earned in the virtual world have the ability to also be utilized in the real world.
Website | Telegram | Discord | Twitter | Instagram | Facebook | LinkedIn | YouTube | Medium | OpenSea
Appendix A
NEXUS World List of Cities
City Launch Wave 0: Singapore (sold out)
City Launch Wave 1:  London, Dublin, Glasgow (launching February 9, 2023)
Upcoming cities (inclusive of Wave 1):