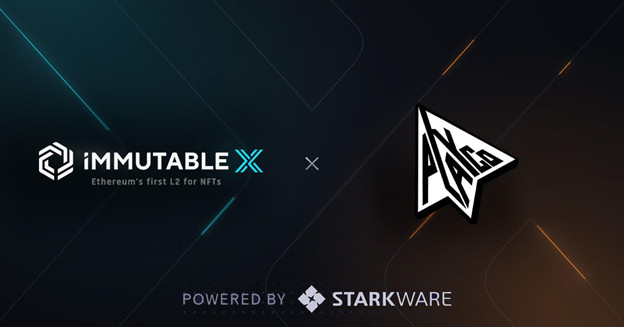 03Nov
Playco Partners with Immutable X To Bring Gas-Free NFTs on Ethereum to Instant Play Gamers
Sydney, Australia, 3rd November, 2021,
Playco, the global leader in instant gaming, is partnering with Immutable X, the leading Layer 2 scaling solution for Ethereum NFTs, to power frictionless integration of gas-free and carbon neutral NFTs into its instant-play games that have been played by more than 500 million players globally.  Both companies believe instant, rich, seamless NFT-centric gaming experiences – with NFTs shareable across multiple messengers and all mobile and desktop browsers – can drive massive adoption and deeply rewarding gameplay experiences.
In September, Playco launched its Storyverse interactive storytelling platform to empower creators to publish their own games directly into their own social channels, deepening the relationship with fans and opening new opportunities for them to interact and monetize across multiple platforms and billions of potential fans.  Through partnership with Immutable X, Playco's massive enablement of NFTs across platforms, player demographics and game experiences marks another exciting step in redefining user experience and innovation in gaming.
Playco will leverage Immutable's deep expertise in blockchain gaming and NFT technology to partner closely on several game releases over the coming year. The partnership will add depth to player experiences by allowing gamers to collect and trade discrete moments from their favorite games, while enjoying gas-free and carbon neutral NFT trades on a dedicated marketplace powered by Immutable X.  Immutable X is built on top of StarkWare's industry defining zero-knowledge proof technology.
"Delighting our gaming communities with NFT drops directly contributes to our mission to bring people together through games, and we're thrilled to be partnering with Immutable X to make it happen.  Each minted NFT is an opportunity for people to connect around and share moments that matter to them. With NFTs, we're able to take meaningful gaming moments and turn them into lasting collectibles to be enjoyed, shared, or traded," said Michael Carter, Playco CEO and Co-Founder. 
Speaking of the partnership, Robbie Ferguson, Immutable President and Co-Founder, said "Playco's vision for redefining gaming experiences using NFTs is a fantastic way to align incentives with gamers. Immutable X makes it very easy for leading game companies to integrate NFTs into their experiences without sacrificing security and speed, and we are thrilled to power Playco's foray into NFTs. We look forward to expanding our partnership with the team at Playco."
By providing the world's most advanced web-based, instant gaming technology across huge platforms such as Facebook, TikTok, Zoom, Google Play Instant, iOS App Clips, LINE Messenger, Rakuten Viber, Snapchat and more, Playco connects millions of friends and families and ultimately brings the world closer together through play. Without having to download additional apps, players can easily access their favorite games like Sway Stories, Heads Up!, Room Design and Trip Royale with a touch of a button.
About Playco
Playco is the world's first instant gaming company.  It enables near-console quality games that can be instantly played on any smartphone or PC, and delivered more quickly, at lower cost, to more users – with instant updates to content and game-play features.  The company's mission is to bring the world closer together through play. Playco partners with leading social and communications platforms to create innovative game experiences for players, including the global hit EverWing on Facebook, Sway Stories on TikTok, the smash hit Heads Up!, created in partnership with Ellen Digital, for Zoom, Snake Squad on Snap Games and Trip Royale on LINE Messenger, launched in partnership with soccer superstar Keisuke Honda and his educational non-profit, NowDo. Playco recently completed a $100 million Series A fundraise which was co-led by Josh Buckley and Sequoia Capital Global Equities and included Will Smith's Dreamers VC and Walter Kortschak and some of Silicon Valley's most successful investors, including early investors in Chainlink, Blockstream, Alchemy, StrongBlock and Wax. Playco has offices in Silicon Valley, Tokyo, and Seoul. Learn more at https://www.play.co/
About Immutable X
Immutable X is the leading Layer 2 scaling solution for NFTs to enable gas-free minting and trading, while not compromising the security of the most used blockchain globally for NFTs, Ethereum. The solution, powered by StarkWare's innovative technology, offers instant trade confirmation, massive scalability (up to 9,000 transactions per second), and fantastic developer and user experience. Immutable X has announced integrations with established marketplaces such as OpenSea and Mintable, and is powering some of the largest NFT plays across DeFi (SuperFarm), Collectables (TikTok, Ecomi/VeVe, Epics.GG), and gaming (ESL Gaming, IMVU, Gods Unchained, Guild of Guardians, GreenPark Sports, Illuvium, MyCryptoHeroes+).
To learn more about Immutable visit: https://www.immutable.com/
Immutable social media: LinkedIn, Twitter, Medium, Discord
Contact: press@immutable.com  
Contacts
Immutable X
press@immutable.com