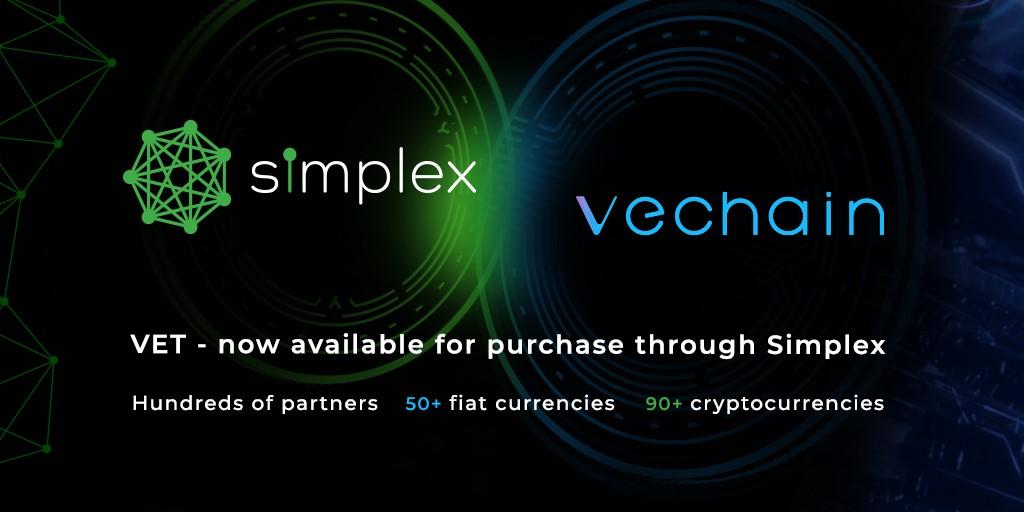 13Aug
Simplex partners with VeChain to enable seamless fiat onramp for VET token
Tel Aviv, Israel, 13th August, 2021,
VeChain is the latest cryptocurrency to be added by Simplex, allowing users to buy, sell and trade VET for fiat and other crypto assets.
Announced Monday, fiat-to-crypto onramp infrastructure platform, Simplex, added VeChain to its list of supported crypto assets, enabling users to quickly purchase VET across its partner network. The partnership opens the crypto community to a global platform, allowing them to purchase VET using fiat payment options including credit and debit cards, Apple Pay, or via bank transfers through Simplex Banking. 
The latest crypto asset addition targets VeChain users, newcomers in the crypto field, and Simplex partners who wish to enable easy access to VET tokens for their users. 
Simplex has pioneered seamless fiat-to-crypto onramps, providing the crypto ecosystem with powerful, seamless, and impactful solutions, and bridging the gap between crypto and traditional finance. With over 350 globally accessible partner integrations including Binance, Huobi, and Bitpay, Simplex continues to drive global adoption of crypto assets through its fiat infrastructure. 
As one of the largest cryptocurrencies today with a market cap of over $7 billion, VeChain's addition means that its ever-growing community of users, developers, and innovators can now directly purchase VET with the same simplicity as a familiar e-commerce experience. VET will be available for direct purchase across Simplex's partner network of leading exchanges and wallets including Bitrue, Digifinex, and Guarda Wallet.
VeChain has built its name across the crypto ecosystem as an eco-friendly blockchain, which is utilizing green and sustainable blockchain consensus to verify and sign off transactions. The blockchain focuses on enterprise adoption by offering decentralized solutions to lower transaction costs and boost overall productivity. Some of the top partners with VeChain include LVMH, Haier, BMW, Groupe Renault, DNV and PricewaterhouseCoopers (PWC). 
Vechain CMO, Yvette Xia, said "This integration improves the utility of VET and increases potential purchasing power. We are on a joint venture to expand the influence of VET and the technology itself."
"We're delighted to be partnering with Vechain, providing their thriving community with global, secure, and instant VET onramps across our partner network," said Erez Ben Ezra, VP Global Expansion at Simplex.
About Simplex
Simplex is an EU-licensed financial institution aiming to change the status quo of the current crypto markets by providing simple and seamless channels to convert over 50+ fiat currencies to 90+ cryptocurrencies. 
Simplex empowers its vast network of partners to accept the widest range of payment methods, including Visa, MasterCard, Apple Pay, SWIFT, SEPA, and more! Launched in 2014, the fiat-to-crypto global onramp infrastructure processes crypto-to-credit card payments with a 100% guarantee – in case of a fraud chargeback, the merchant gets paid by Simplex.
As the market leader, Simplex pioneered the first riskless global fiat onramp using a credit and debit card, which promises a zero chargeback guarantee.
About VeChain Foundation
Launched in 2015, the VeChain Foundation has worked tirelessly to build the bridges between blockchain technology and the real world. VeChainThor's evolution continues to gather pace, transitioning from consortium network to best-in-class public blockchain platform using Proof of Authority consensus, boasting advanced technical features, governance structure and economic model. Through the development of a suite of innovative tools such as Multi-task transaction, fee delegation and VeChain ToolChain™️, VeChain has been able to substantially lower the barriers to entry for businesses and developers alike. 
Alongside key strategic partners PwC and DNV, VeChain has collaborated with world-leading enterprises including Walmart China, Bayer China, BMW Group, BYD Auto, PICC, Shanghai Gas, LVMH, D.I.G, ASI Group and more.
For more information, including developer tools/documents and foundation grants, please visit: www.vechain.org
Contacts
Dan Edelstein
pr@marketacross.com