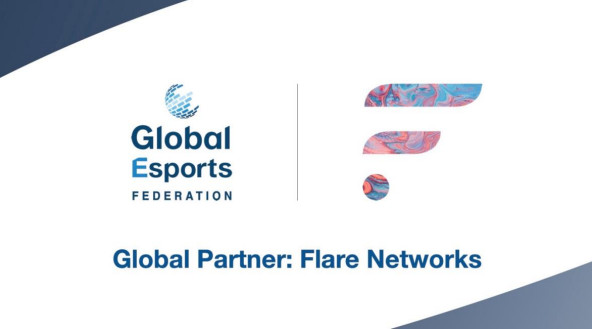 06Aug
Global Esports Federation and Flare Networks Strike Agreement to Light the Way on Blockchain
London, United Kingdom, 5th August, 2021,
The Global Esports Federation enters into new global partnership with Flare Networks, as Global Pa rtner – Blockchain ecosystems, to establish the pathway in engaging blockchain technologies with the dynamic esports community around the world.
"We are excited to announce this Global Partnership with Flare Networks. As one of our core values – innovation – we offer our community boundless opportunities, excitement, and hope," said Adrian F. Lismore, GEF Board Member and Chair of Finance, Legal and Administration Commission. "Our global community has asked us to lead the way and provide the guidance, framework, and integrity measures appropriate to enhance their trust. This global partnership with Flare Networks will help the GEF, our Members and Partners, light the way for our community to engage with blockchain. Congratulations to Flare Networks, Co-Founder and CEO, Hugo Philion, and team – welcome to our #worldconnected."
"We believe wholeheartedly in the mission of the Global Esports Federation to connect the world through esports. At Flare, we are committed to building a fair, fast, decentralized, and low carbon footprint network where individuals and communities can take better control of their collective futures and experiences and interact with each other in ways not previously possible," said Hugo Philion, Co-
Founder and CEO of Flare Networks. Gaming and esports are an area where we think Blockchain has exciting applications. Through this fantastic partnership with the GEF, we hope to foster an enriched, democratized and better connected esports community, #UnlockingValue."
The GEF is geared to continue harnessing the limitless potential of new technologies that can result in a radically different competitive future in esports and entertainment.
About The Global Esports Federation
The Global Esports Federation promotes the credibility, legitimacy,and prestige of esports. We convene athletes, players, the world's publishers, developers, industry partners and sporting organizations on one inclusive platform. We encourage and support the connection between esports, sport and technology. Our mission calls for the development of visible initiatives that are in service to the world's esports community. We are grateful for a collective of strategic partnerships that bring to life this mission.
About Flare
Flare is a scalable, low carbon, low cost, highly decentralized smart contract platform that runs the Ethereum Virtual Machine and utilizes Federated Byzantine Agreement-based consensus. The platform's native token Spark (FLR) enables Flare to unleash the tremendous value in diverse ecosystems and blockchain communities. Flare is unique in that it derives its network structure from its underlying integrated networks, leveraging the decentralisation and security of the underlying networks. Flare's development team features experts from the worlds of electronic engineering, distributed systems, quantum computing, mathematics, computer science, quantitative finance and risk management.
Contacts
Press
Info@marketacross.com