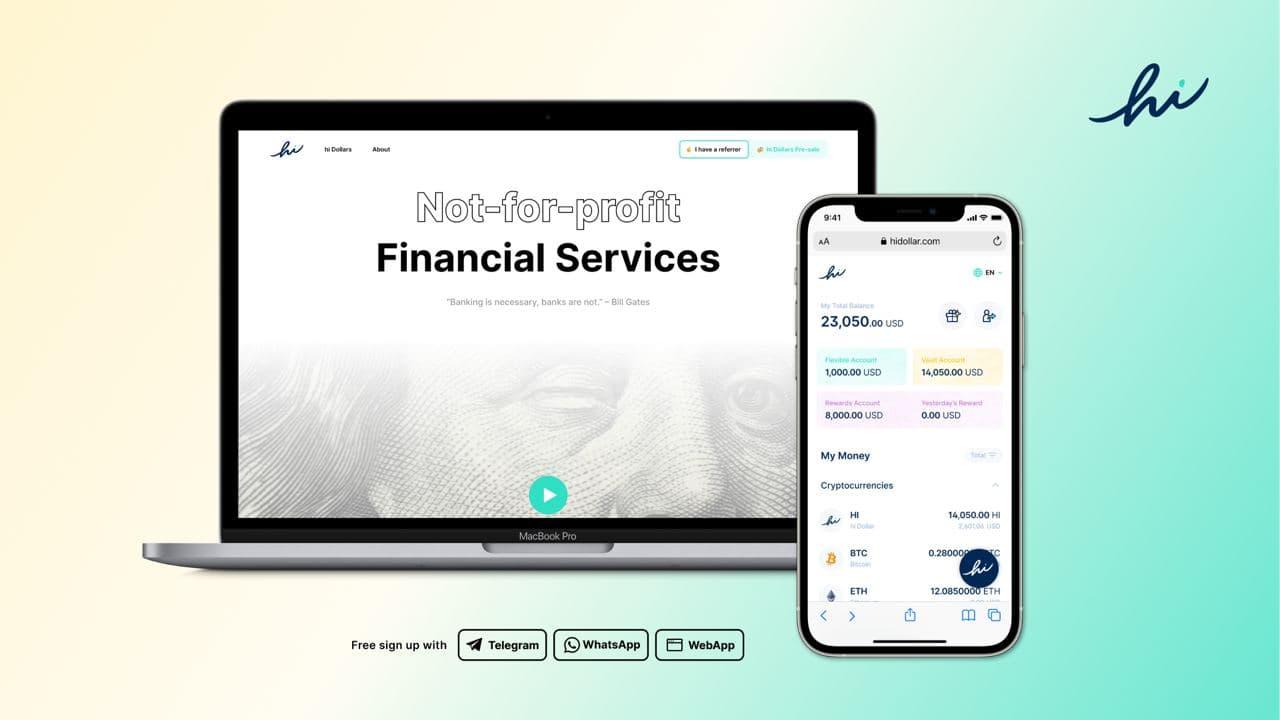 02Aug
The hi Project Launches hi Dollar Token to Enable Wider Access to High Yield Savings Account
Singapore, Singapore, 2nd August, 2021,
hi, a new startup bridging the divide between traditional fintech and crypto, is announcing the anticipated launch of hi Dollars (HI), the platform's native token used to receive interest rate rewards, payments and other exclusive opportunities. 
HI is initially released on the Ethereum blockchain, with an approximate supply of 400 million tokens. The initial mint distributes tokens to contributors and community backers, with 100M devoted to earned tokens in the Rewards account, 8M in purchased tokens vesting in the first week, and a 2.67x multiple reserved for funding further rewards and purchases.
HI tokens will remain purchasable after launch, with discounts available for accepting 1 or 4 years of lockup. The locked tokens will be viewable in the Vault section of the user's account. Shortly after token generation, withdrawals will be enabled on the hi platform, in any case no later than August 10.
"The launch of hi Dollars marks the official beginning of the project we've been working on the last year," said Stefan Rüst, CEO and Co-Founder of hi. "We're dedicated to the mission of adopting cryptocurrencies widely, but we're also pragmatists in that we strive to make the user experience as simple as possible, while solving real needs users may have within the traditional financial system. The hi Dollar enables us to build a radically different, community-based and non-profit structure that is unlike anything else seen both in crypto and fintech."
The hi Dollar is a fixed supply, floating value asset that represents membership in the hi community. The hi Dollar is a membership token that entitles users to accessing a number of financial services provided by hi, without even needing to download an app. To interact with hi, users can send text messages on WhatsApp and Telegram, or use the hi web app. More chat apps and a dedicated mobile app are also planned, but they will be an addition to the current frictionless experience. 
The primary purpose of hi is to create a community bank where everyone has equal access to key financial services. With hi, users can send money to their friends, even across borders, and with no fees; they can use a virtual debit card to pay businesses; exchange fiat currencies at interbank rates; and receive lifestyle rewards, free subscriptions and other perks commonly reserved to users of some credit card plans.
The hi project is set up as a pure non-profit, with any potential fees being just high enough to support the platform's operation. The hi Dollar allows flexibility in revenue models, achieving the same results of a traditional corporate structure while remaining community-bound. Launched by crypto and traditional industry veterans from Bitcoin.com, Crypto.com, Morgan Stanley and others, hi is poised to bring crypto to mainstream audiences.
About hi
hi is the startup bridging the fintech gap with crypto, providing useful financial services in the traditional world mixed with innovations enabled by crypto and DeFi. With user experience and frictionless onboarding as the highest priorities, you don't even need to download an app to use hi from mobile. By holding hi Dollars, a world of free and global financial services opens up to the user, including high-interest savings accounts, free currency exchange, borderless transfers and exclusive perks. Learn more and get hi at https://hi.com
Contacts