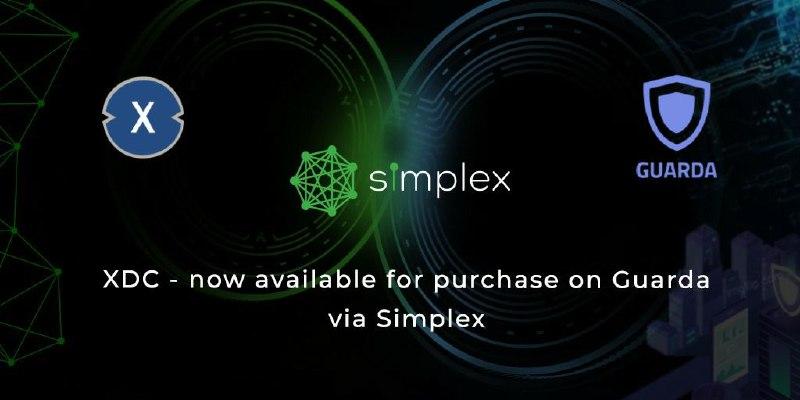 30Jul
XinFin Partners with Guarda Wallet and Simplex to Provide Easy Fiat Onramp for XDC
Tel Aviv, Israel, 30th July, 2021,
Guarda Wallet, with its Simplex-powered fiat onramp functionality, has added instant buy support for XinFin's XDC token, allowing the wallet's users to instantly buy XDC with debit and credit cards, Apple Pay or global bank deposits.
The integration is an important piece for adoption of the XDC Network hybrid blockchain infrastructure, as the XDC native network token grants the ability to pay for transactions and smart contract usage. Adding new and easy ways of acquiring XDC ultimately benefits the network by opening it up to a larger community of users and developers.
The XDC token can be purchased on Guarda Wallet thanks to its integration with industry leader, Simplex. Within seconds, users are able to get XDC directly to their wallet by paying with debit or credit cards, Apple Pay or instant wire transfers (where supported). As Guarda's partner, Simplex handles the conversion and offers its deep expertise and wide adoption to facilitate a smooth exchange process.
Guarda is a multicurrency wallet that is available for web, mobile, desktop and as a Chrome extension. Guarda supports over 50 major blockchains, thousands of tokens and dozens of stablecoins. Guarda has supported XinFin's XDC Network since 2020, but the partnership did not include an instant buy feature, until now.
XinFin's XDC Network is a hybrid blockchain project with a focus on enterprise customers. The platform continues where J.P. Morgan left off with the Quorum project, and is ultimately based on an enterprise-optimized version of Ethereum. Since its inception, XinFin has focused heavily on notable partnerships to bring mainstream adoption to blockchain technology, powered by its XDPoS consensus mechanism that guarantees the required performance for this goal.
"It's important to make XDC as widely available as possible to bootstrap adoption and network effects, and to that point we're very excited for this new stage of the partnership with Guarda Wallet," said Ritesh Kakkad, Co-founder of XinFin.
"We believe in the XinFin mission and support the project, and are very happy to be offering a sleek and easy integration to instantly buy XDC on our app," said Paul Sokolov, CEO of Guarda Wallet. "The importance of good user experience should not be understated. Many users want something simpler than placing orders on an exchange, and that's the need we are satisfying through a partnership with Simplex."
"We're delighted to be adding support for XDC, empowering millions of users to purchase the XDC Network's native coin instantly with their everyday credit or debit card via our trusted and long-time partner, Guarda Wallet," said Ari Last, VP Business Development at Simplex. "Crypto should be accessible to all, and through this partnership with XinFin and Guarda, we are one step closer towards that goal."
About XinFin's XDC Network
The XDC Network  is a global open source Hybrid Blockchain protocol/platform with independent community contributors comprising long-term backers, network utility and tech developers. The XDC Network is a utility network that lets enterprises deploy real-world applications on Hybrid Blockchain Protocol in a conducive, compliant and regulation-friendly environment for diverse use cases in trade, finance, remittance, supply chain, healthcare and other industrial areas to improve business efficiency.
About Guarda
The story of Guarda began in 2017 with the first cryptocurrency wallet (Ethereum wallet for Android) being released. Since then, Guarda (officially registered as Guardarian OÜ in the European Union) has been focusing on building an ecosystem of blockchain-related products. As for now, the company received the FIU license (reg. FVR000109) for virtual currency against fiat currency exchange, complying with the laws and regulations of each jurisdiction in which Guarda operates.
About Simplex
Simplex is the fiat/crypto infrastructure for the entire world. Powerful, seamless, and impactful, Simplex has been changing the status quo of crypto on/off ramps since 2014. As the market leader, we pioneered the first riskless global fiat onramp using a credit and debit card, which promises a zero chargeback guarantee. Simplex Banking offers the Simplex fraudless payment processing, with global payment accessibility. Working alongside the biggest names in the crypto ecosystem, including Binance, Huobi, Bitpay, Simplex provides the complete fiat infrastructure for the cryptocurrency ecosystem. As a licensed EU financial institution and a Principal Member of the Visa network, Simplex was selected as one of the 10 most impactful companies in blockchain in 2020. Keep up with the latest Simplex news by following us on Twitter or visiting simplex.com. 
Contacts
Dan Edelstein
pr@marketacross.com