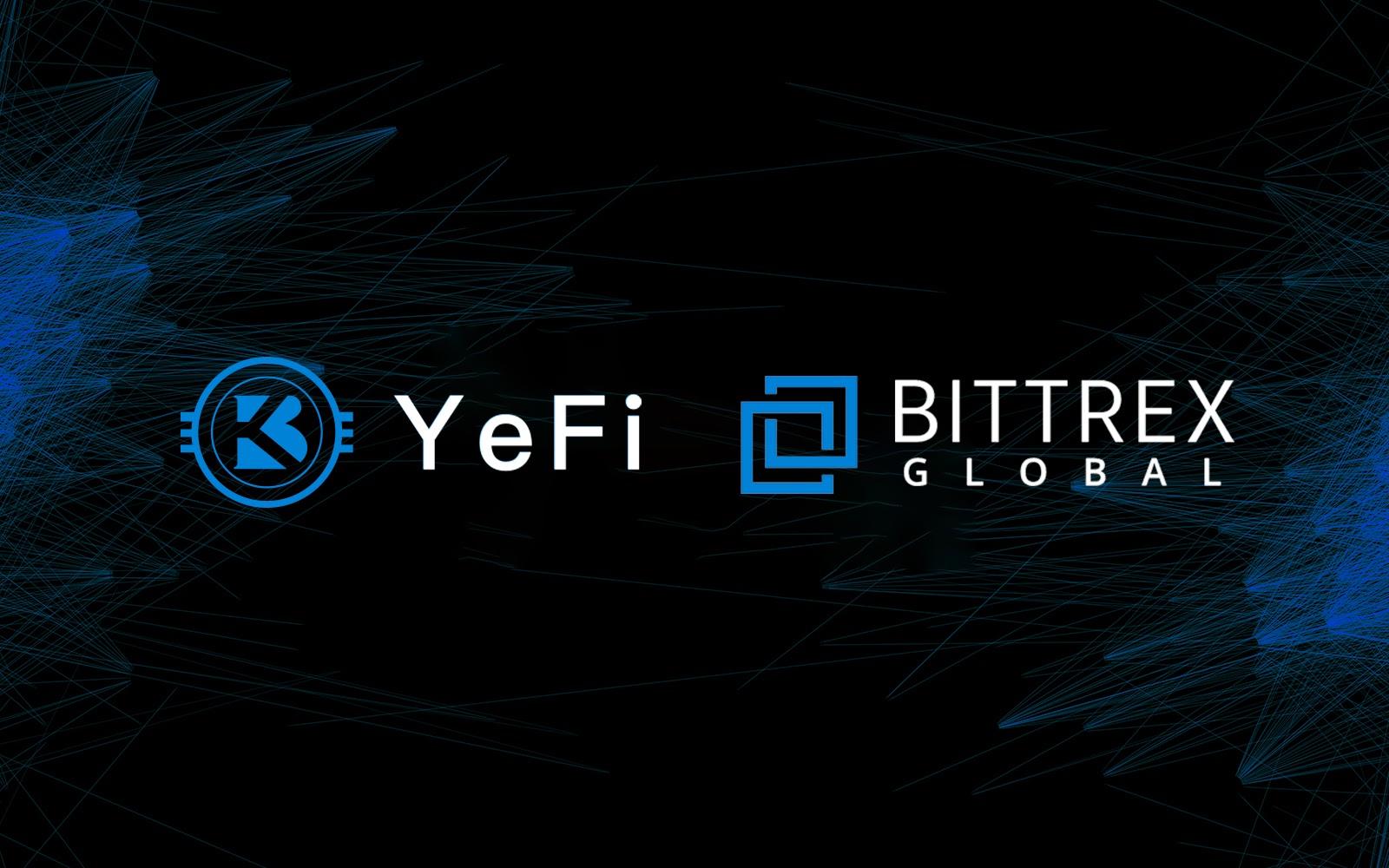 21Jul
YEFI To Be Listed on Bittrex Starting July 22
Dubai, UAE, 21st July, 2021,
YeFi.one, a non-custodial open-source protocol stack designed to become a core liquidity provider, will list it's token, YEFI, on the major cryptocurrency exchange, Bittrex Global, on July 22nd. 
​​Going live on Bittrex marks YEFI's largest centralized exchange listing to date. Bittrex listing will introduce YEFI to a $60 million daily trading volume. YEFI tokens will be available for transfer on the Bittrex Exchange platform starting from 07:00 AM (GMT+8), July 22, 2021 with trading of the YEFI-USDT pair.
Bittrex Global provides the widest selection of cryptocurrencies and is known for strong security with more than $1.5 billion monthly trading volumes. 
The Bittrex listing is becoming available to the public after the YEFI token achieved a 6x growth in a single month since launched on PancakeSwap and MDEX on June 18.
"Getting listed on one of the top exchange platforms, like Bittrex, is certainly a green, bullish sign for YEFI. We expect to continue seeing a positive dynamic in the YEFI token's price," said CEO of YeFi.one, Pekka Kelkka.
The YeFi DApp is a fun, interactive DeFi tool that has already attracted more than 14 thousand users globally since its launch in April this year. The DApp can be accessed via any BSC-compatible wallet. Users can choose to stake for 1 day, 15 days or enable the auto-renewal function in one click. The interest is paid off every 10 minutes and can be cashed out at any time. The YeFi smart contract has been verified by two blockchain audit companies Certik and Beosin and proven to be secure and exploit tolerant.
The project is working on becoming a platform with a fully functioning lending & borrowing solution with DEX and NFTs capabilities coming up soon. 
You can start staking with YeFi.one DApp in 3 simple steps:
1.  Buy YEFI token on PancakeSwap, MDEX or Bittrex
Smart contract address for DEX: 0x193b8230f594f63da50876eaf362177d1dca4a45
2.  Access the DApp https://dapp.yefi.one from your favorite BSC-compatible wallet
3.  Get your invitation link on our telegram community https://t.me/YeFiGlobalCommunity
and start earning passive interest today
About YeFi
YeFi.one is an innovative platform that combines the best of both worlds – decentralized data storage and decentralized finance (DeFi) – and creates a one-of-a-kind DeFi product.
The platform combines DeFi with decentralized data storage projects like Filcoin, Swarm, Chia, and users can mine YeFi and turn a profit through decentralized data storage tokens like FIL, BZZ, and XCH.
About Bittrex Global
Bittrex is one of the largest and most secure U.S. cryptocurrency exchanges. Founded in 2014 by three senior security Amazon managers, Bittrex Global offers a secure trading platform developed for international customers. This international trading platform provides innovative tokens, while also providing instant trade execution, dependable digital wallets, and industry-leading security practices. 
Relevant Links:
Website: https://yefi.one
Facebook: https://www.facebook.com/Yefi.io
Twitter: https://twitter.com/yefi_platform
Medium: https://medium.com/@yefinetwork
Whitepaper: https://oss.yefi.one/YEFI_WHITEPAPER_EN.pdf
Contacts
Content writer
Olia Petrovska
YeFi.one
olia@yottafile.io