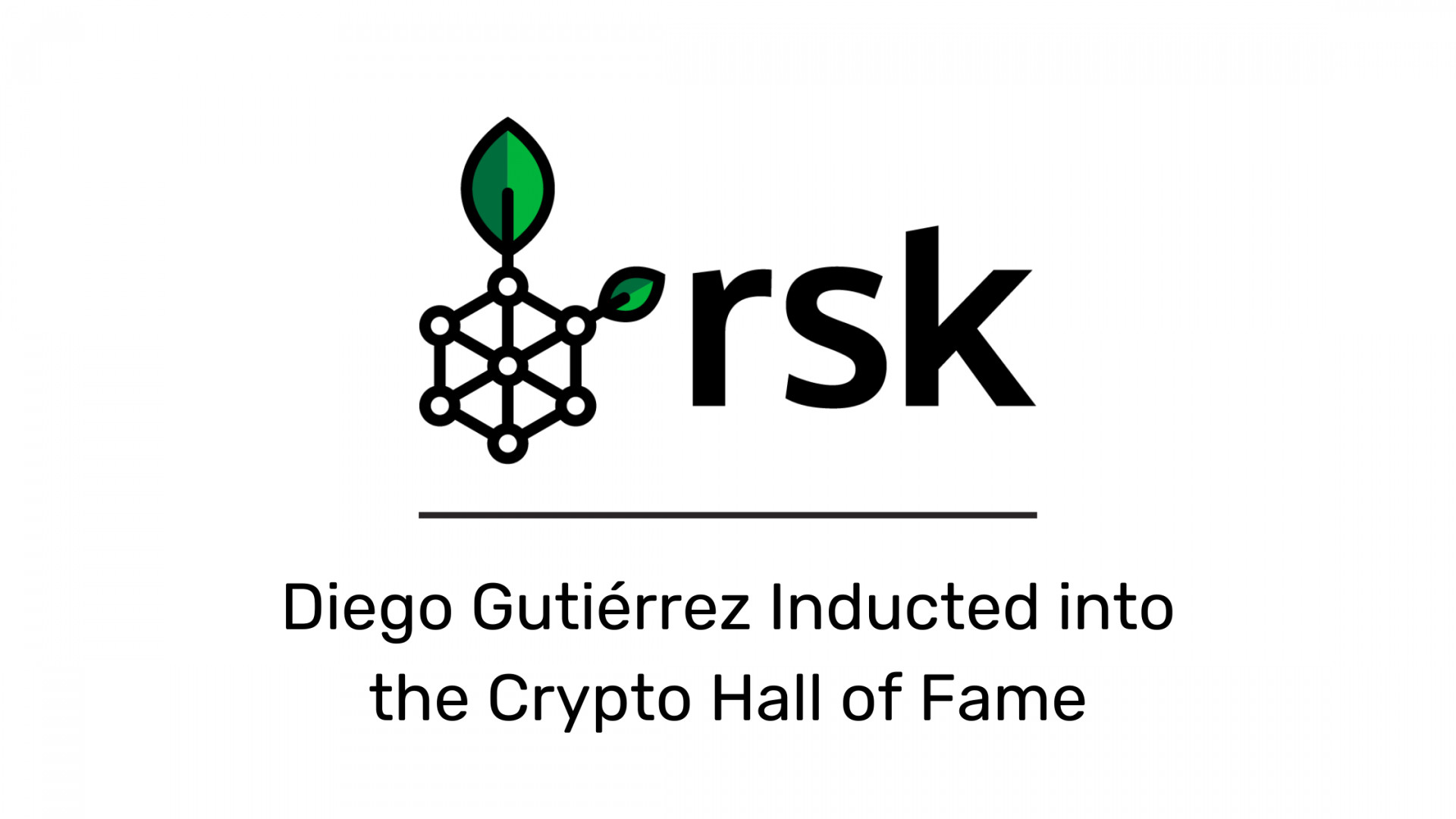 07Jun
RSK Labs CEO & Co-Founder Diego Gutiérrez Inducted into the Crypto Hall of Fame
Gibraltar, United Kingdom, 7th June, 2021,
The Crypto Hall of Fame hosted at Moonstock an online gallery specialized in Crypto Art and NFTs created by Aaron Koening was launched in April 2021 and celebrate major contributors to the Blockchain Industry with portraits designed by Max Crypotohead.
Diego Gutiérrez Zaldívar, CEO & Co-founder at RSK  Labs, has been inducted into the Crypto Hall of Fame. The announcement ceremony took place during Bitcoin 2021 in Miami, the world's largest cryptocurrency conference with more than 12,000 attendees. A pioneer of web development in Argentina since 1995, Diego has had a leading role in fostering Bitcoin technology in Latin America for nearly a decade. He got in touch with Bitcoin back in 2011 and since then his initiatives have transformed the potential of blockchain technologies into real use cases. 
As RSK Labs Cofounder along with his partners, he launched the first smart contract platform secured by the Bitcoin Network making it fully programmable. In addition to RSK, Diego also has co-founded blockchain company Koibanx and the Argentine Bitcoin NGO, where he helped create a network of Bitcoin communities with a presence in many countries across the region, as well as the longest-running Bitcoin conference in the world.
His extensive experience extends to being part of the founding teams of some of the most well-known digital projects in Latin America, including Argentina's largest newspaper Clarín Digital and Patagon.com, a financial community sold to Banco Santander for 750 million.
Diego earned his Bachelor's in Humanities at the Instituto Libre de Segunda Enseñanza (ILSE). 
Commenting on his nomination during Bitcoin 2021, Diego said: "I am very honored to be included in this illustrious circle. I am thrilled to have been appointed to the Crypto Hall of Fame among giants like Satoshi Nakamoto, Nick Szabo, or David Chaum. More than personal recognition, I feel this as a recognition to all the amazing pioneers that built the Bitcoin and crypto movement in Latin America, amongst them the RSK co-founders Sergio Lerner, Ruben Altman, Adrian Eidelman, and Gabriel Kurman. When we started to create RSK, we had the vision of turning Bitcoin into a full-fledged financial system for the many, not the few that would enable a more inclusive and fair global economy. Now we are closer than ever to see that vision realized."
The Crypto Hall of Fame celebrates pioneers in the industry and consists of portraits of the most important crypto pioneers The annual induction ceremony honors outstanding business leaders and entrepreneurs who, through their work, have made a significant contribution to the crypto industry.
A portrait of Diego created by Max Cryptohead will be exhibited in the 3D gallery of the Crypto Hall of Fame. It is online-only but the portraits are also available as NFTs.
Just like Bitcoin is limited to 21 million units, the Crypto Hall of Fame is limited to 21 members who can ever be inducted into it, which makes it an even bigger honor to be selected.
The first eleven were obvious choices, crypto legends like Satoshi Nakamoto, the mysterious inventor of Bitcoin, and his right hand Hal Finney. Other nominees also include the creators of Bitcoin's predecessors, such as David Chaum, Wei Dai, Adam Back, and Nick Szabo.
For other candidates, the Crypto Hall of Fame has a structured and transparent selection process where everyone can make a suggestion through their website. Then a selection committee of neutral but well-informed crypto experts decides who will be inducted next.
Apart from Diego, other nominees were Alexander Kuzmin (founder and CEO of Mycelium), Bram Cohen (creator of BitTorrent and Chia), Charlie Shrem (co-founder of BitInstant and Untold Stories), Erik Voorhees (co-founder of Shapeshift, Coinapult, and Satoshi Dice), and Ralph Merkle (inventor of the Merkle Tree).
To find people who know the crypto scene well but would not qualify for being selected themselves, the committee consists of educators and communicators. The members of the selection committee this year are:
Aaron van Wirdum (Editor Bitcoin Magazine)
Alexandra Kons (Editor Be-in-Crypto)
Amelia Tomasicchio (Editor The Cryptonomist)
Eryka Gemma (Founder Bitcoin Center Miami)
Jack Martin (Editor Cointelegraph)
Olga Filatova (Founder Crypto Art Museum)
Roger Benites (Managing Director Bitcoin Center New York)
About RSK
RSK is the first smart contract platform secured by the Bitcoin network, transforming the way businesses are conceived, designed, and built. Its complementary platform, RSK Infrastructure Framework Open Standard (RIF OS), takes these technologies to scale, simplifying the use of decentralized infrastructure for any traditional or Blockchain developer, organization, or innovator.
Contacts
Chief Marketing Officer
Gloria Vailati
IOV Labs
gloria@iovlabs.org