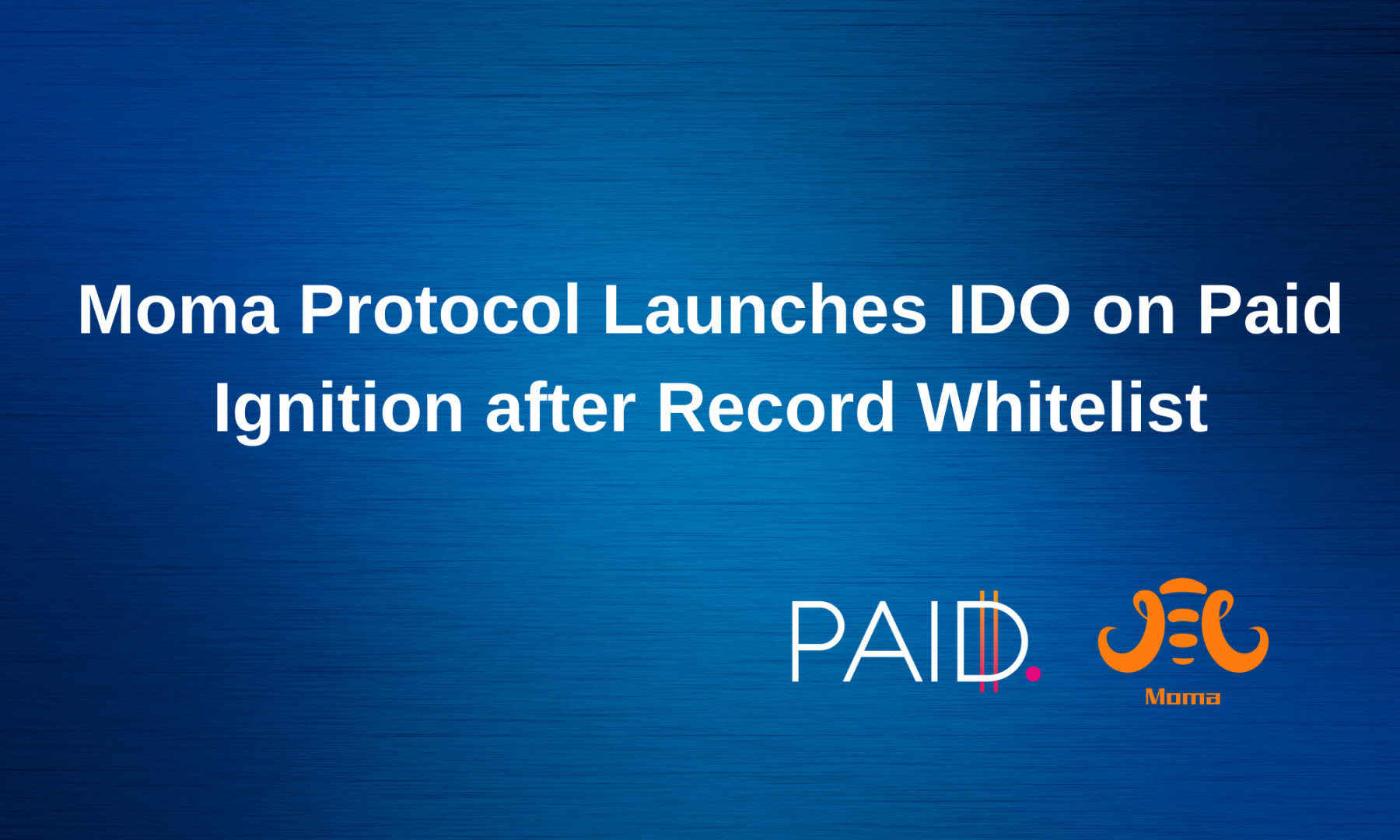 20May
Moma Protocol to launch IDO on Paid Ignition after recording over 200,000 whitelist registrations on Genpad's Pre-IDO
Singapore, Singapore, 20th May, 2021,
Moma Procotol announces that their initial DEX offering (IDO) partner will be Ignition, launchpad of Paid Network. Led by serial blockchain entrepreneur, Ocean Liao, and a group of experienced developers from Fudan University, Moma Protocol is allowing anyone to create, manage and accelerate DeFi lending markets through a proprietary "Factory" protocol model that brings democracy, customization and infinite liquidity to the DeFi lending markets.
Moma Protocol has four components:
Launch Pool is the supply hub of the Moma Protocol ecosystem. It is also a customizable pre-lending pool where community members can mine and the resulting community tokens distributed for any projects through this pool.
Lending Pool is designed to support the borrowing and lending patterns of any market. It is customizable, with an over-collateralized loan structure that creates stability and balance in the Moma Protocol lending ecosystem.
Aggregator is the tool, employed by Moma Protocol to help in speculation. It considers various parameters, including a user's borrowing and lending habits, to determine the best finance facility for the user.
Moma Protocol also features a risk management system ensuring that its members are cushioned from losses through two reserve pools or prevented from potentially committing to potentially risky assets through whistleblowers and a crypto asset risk rating database. These facets work together to give an enhanced DeFi experience to users on the Moma Protocol ecosystem.
Kyle Chasse, CEO of Paid Network and Ignition, said:
"Liquidity, scalability, and speculation. These three define the existing challenges in the DeFi industry. Despite the existing solutions in various platforms, no platform has successfully tackled the challenges at once the way Moma Protocol does. We are happy to introduce innovative ecosystems that would grow with DeFi's market size, like Moma Protocol, to Ignition's members."
To prepare for the IDO, Moma Protocol has partnered with Genpad, a one-stop solution that combines NFT elements, community power and ecosystem resources to solve projects' liquidity problems before the IDO phase.
Garlam Won, Co-Founder of Genesis Shards and Genpad, said: 
"We are happy to have given Moma Protocol a supercharged start early in their lifecycle to propel them faster towards their goal of building an infinite liquidity-generating platform for DeFi assets. The pre-IDO event was successful. We have recorded over 200,000 whitelist registrations from the open community and Gen Access Club, and the first batch of winners have already received their GenTickets. Moma Protocol GenTicket NFT is now tradeable on OpenSea as well."
Ocean Liao, CEO of Moma Protocol, said: 
"What Moma Protocol wants to achieve is to create an expandable, scalable, and flexible infrastructure for the DeFi world in 5 -10 years, in a way that everyone can freely participate. This goal would be not possible without a solid community base. It is a pleasure to partner with Genesis Shards and Paid Network. We are thrilled to see the community's enthusiasm and pre-IDO results on Genpad, and are confident that the IDO on Ignition will be another success. We are ready to contribute to the DeFi industry  and share success with the community in every stage of our development." 
Important Dates of The Moma Protocol IDO on Paid Ignition:
Whitelist Start: Tuesday May 18, 2021
Whitelist Close: Friday May 21, 2021 – 4AM UTC
IDO on Ignition: Thursday May 27, 2021 – 11AM UTC
Moma Protocol recently closed seed and private rounds led by Fundamental Labs and SevenX Ventures, which raised $2.25 million in funding. Other investors include: AU21, BlockSync Ventures, Building Blocks, Coins Group, Consensus Capital, DFG Capital, FBG Capital, Finlink Capital, ICO Pantera, Lotus Capital, Magnus Capital, MoonRock Capital, Moonwhale Ventures, Oasis Capital, Spark Capital, Waterdrip Capital, X21 Digital and Zee Prime Capital.
Moma Protocol's social media channels:
Website: https://moma.finance/
Twitter: https://twitter.com/Moma_Finance
Telegram: https://t.me/Moma_Official
Medium: https://momafinance.medium.com
Discord: https://discord.gg/pfZW5ftJ
About Moma Protocol
As a solution to meet users' demand for liquidity, scalability, and speculation needs in the DeFi lending markets, Moma Protocol produces, manages, accelerates and aggregates the lending market through a proprietary smart contract factory, creating an ecosystem that can expand infinitely in lending liquidity and market diversity. The beta version of the product has currently been online and the official version of the product will be live in Q2 2021.
About Paid Network
PAID Network seeks to redefine the current business contract, litigation, and settlement processes by providing a simple, attorney-free, and cost-friendly DApp for users and businesses. PAID technology leverages Plasm to operate on both Ethereum and Polkadot ecosystems. PAID makes businesses exponentially more efficient by building SMART Agreements through smart contracts in order to execute DeFi transactions and business agreements seamlessly. PAID streamlines backend legal operations with SMART Agreements, so that projects can focus on making their brand bigger and better.
About Genesis Shards
Genesis Shards is a decentralized ecosystem powered by Polkadot redefining NFTs as DeFi options, creating a permission-less environment of interchain liquidity for pre-IDO tokens. By wrapping time-locked fungible tokens into NFTs, Genesis Shards is creating a new marketplace for previously illiquid tokens.
Contacts
Press
info@marketacross.com