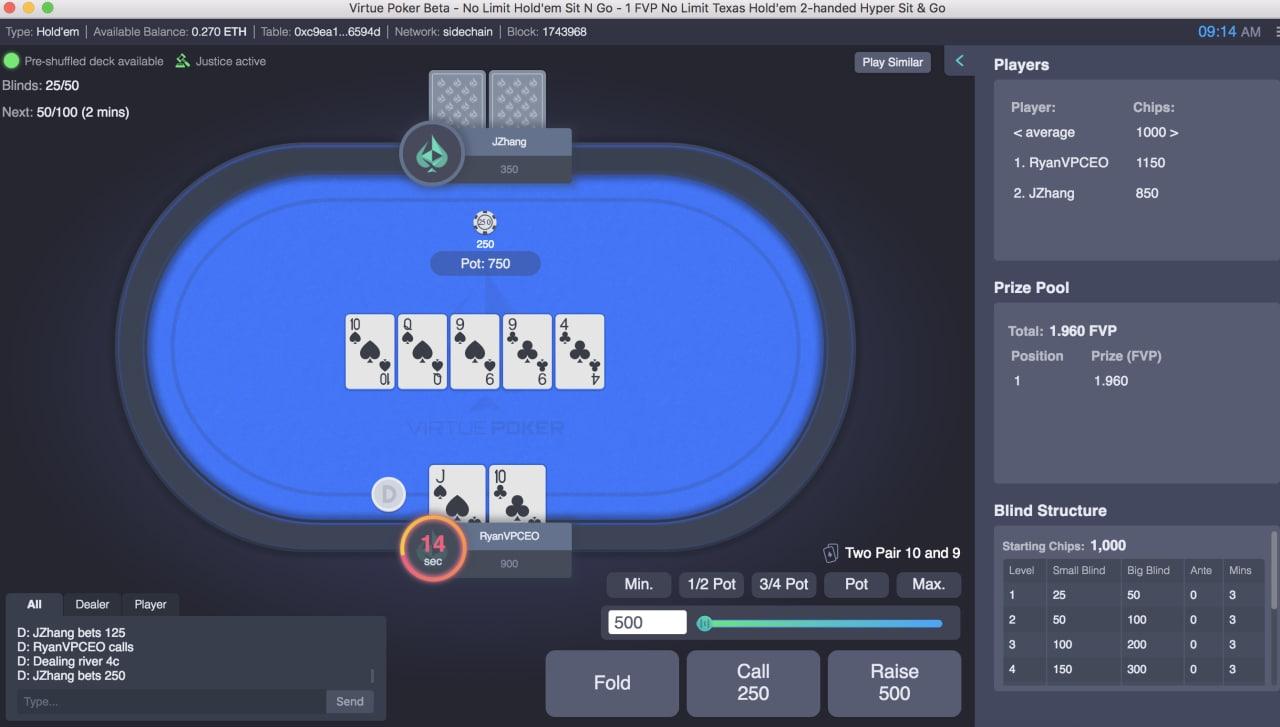 12Apr
Consensys-Backed Virtue Poker Raises $5 Million Strategic Round
Ta' Xbiex, Malta, 12th April, 2021,
Virtue Poker, a multi-chain, Ethereum-based decentralized poker platform, has now announced it has closed on a strategic investment round of $5 million.
The company was part of Coinlist's Seed Winter 2021 Batch and has received funding from strategic investors, including Joseph Lubin's Consensys, DFG Group, Pantera Capital, Jez San from FunFair and other notable names. Poker legend and 10 times WSOP winner Phil Ivey, is a both a stakeholder and the public spokesperson for the company.
Virtue Poker is a P2P poker site that operates on the Ethereum blockchain, which allows players to transact in cryptocurrency instead of fiat money. Since 2015, blockchain development tank ConsenSys has served as the incubator for the project. 
"I'm excited to see the Virtue Poker team realize its mission in bringing transparency and trust to the online poker industry. By working with regulators in becoming the first licensed blockchain based platform, Virtue Poker legitimizes the use of this technology in the industry long term going forward," said Joe Lubin, founder of Consensys. 
While this news itself is certainly attention-getting, it's even more impressive when you consider the startup was part of Coinlist's Seed Winter 2021 Batch, and in 2018, it closed a token sale that raised nearly $20 million.
Furthermore, the latest financing for the ConsenSys-incubated startup was participated by notable investors, including Pantera Capital, Consensys, DFG Group, Jez San from FunFair. 
Virtue Poker also taps Poker Hall of Famer Phil Ivey as a stakeholder and ambassador for the company.
Poker legend, Phil Ivey, who works with Virtue Poker as a brand representative and professional advisor, commented: "I've been working with the Virtue Poker Team for over 3 years. Their innovative blockchain platform can be a major part of poker's future. I'm excited to continue my partnership with the Virtue Poker team and work to bring the platform to poker communities worldwide".
Virtue Poker is the only blockchain platform that is fully licensed by the Malta Gaming Authority. The iGaming watchdog has been exploring for years how crypto assets and blockchain technology might be used at licensed online betting. At present, hundreds of fiat-money betting platforms are licensed in Malta, which still hold the vast majority of the gaming market, but they have no permissions to accept cryptocurrencies due to the MGA's regulations.
"After years of consultation, in person meetings, and effort – Virtue Poker can proudly say we are the only licensed blockchain based poker application in the market," added CEO Ryan Gittleson. 
He continues: "Blockchain technology provides modern and secure payment infrastructure that provides global accessibility to consumers, unlike our competitors. By working with regulators to become a licensed online gambling company, Virtue Poker now has legitimacy to crossover and compete for customers from legacy providers to bring blockchain based wagering mainstream."
 About Virtue Poker
Virtue Poker is an Ethereum-based decentralized poker platform that utilizes the blockchain and peer-to-peer technology to make online poker safe, honest and fun. The company was founded in 2016 within Consensys, the leading full stack Ethereum software engineering company and incubator founded by one of Ethereum's co-founders Joseph Lubin, back in 2014. Virtue Poker is Backed by Consensys as well as stakeholder Phil Ivey. Virtue Poker is on a mission to make blockchain-based betting mainstream and transparent.
Learn more: https://virtue.poker/
Contact:
Ryan Gittleson
ryan@virtue.poker
Contacts
CEO
Ryan Gittleson
Virtue.Poker
ryan@virtue.poker