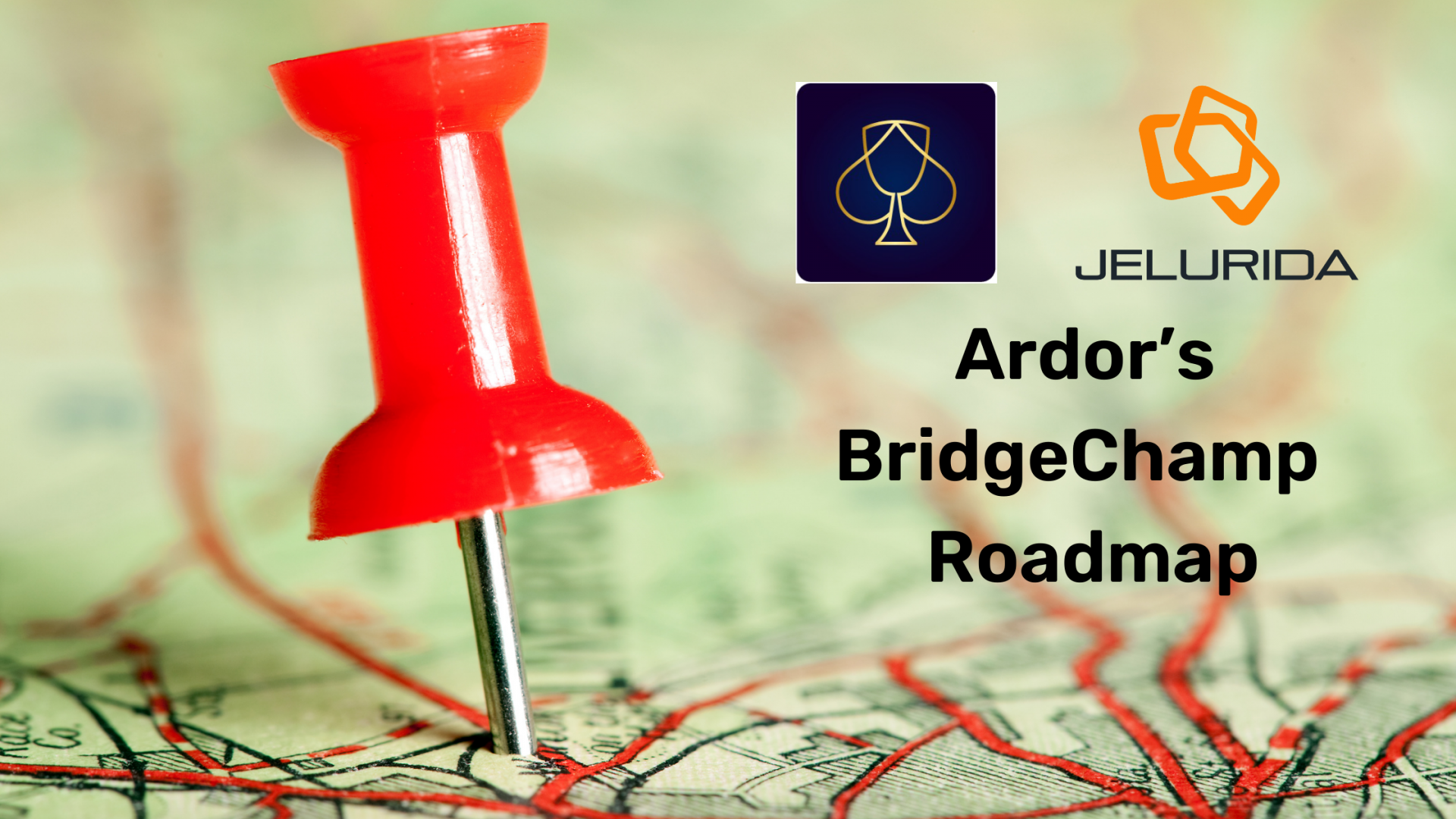 24Mar
Ardor's BridgeChamp Project Announces Launch Roadmap
Lugano, Switzerland, 24th March, 2021,
Jelurida Swiss SA is pleased to announce the publication of the launch roadmap for one of its flagship applications, BridgeChamp. BridgeChamp is a blockchain-based gaming platform centered around the popular game of contract bridge. The roadmap, which runs to the end of 2021, will see the project through all phases leading up to a full launch to the general public in Q4.
BridgeChamp was conceived in 2020 by Jelurida, which operates the Ardor platform. It aims to overcome a key challenge facing bridge players worldwide – a severe lack of modern online gameplay options on the market. Bridge is generally a very social game, but as the 2020 global pandemic caused many people to resort to digital means for enjoying their favorite pastimes, the famously social bridge community has been left short.
Therefore, BridgeChamp addresses this gap with a full-featured online gameplay platform for bridge players worldwide. The newly published roadmap provides a complete overview of all the features that players can expect when BridgeChamp is launched in beta in Q3, and to the public in Q4 2021.
The roadmap shows  that a significant amount of development is already completed, including the infrastructure for setting up bridge tournaments, registering players, and making BridgeChamp available via mobile. During the first quarter of 2021, the development team has also worked on elements of the user interface.
The next phase of development in Q2 will bring blockchain integration and token issuance, introducing the in-game economic elements. All game results will ultimately be recorded on the blockchain, ensuring no fraud or tampering. Additional tournament features will be added, along with social integrations for video, audio, and text-based chat, before the third quarter's beta launch.
The final version of BridgeChamp will also have an open API layer that will allow third-party developers to integrate with the platform. In a recent blog post, Jelurida co-founder and core developer Lior Yaffe stated that BridgeChamp will ultimately become a social network for bridge players, evolved around the game itself.
Speaking of the roadmap publication, Barak Lieberman Bridge Champ's founder and evangelist – We are excited to present the roadmap of the most innovative contract bridge online website and app launched in the last 20 years. Integrating modern UI, social elements, blockchain NFT, and utility tokens can disrupt the existing casual gaming ecosystem and revitalize this otherwise stagnant market.
About Jelurida
Founded in Switzerland in 2017, Jelurida is a software company that develops and maintains the Ardor and Nxt blockchains. Now a multinational organization with offices on three continents, Jelurida is focused on helping enterprises capitalize on the benefits of blockchain by making it easier to deploy applications connected to the open Ardor and Nxt networks. BridgeChamp is owned and developed by Jelurida on the Ardor blockchain platform.
Contacts
Marketing Specialist
Elisa Manzieri
elisa.manzieri@jelurida.com