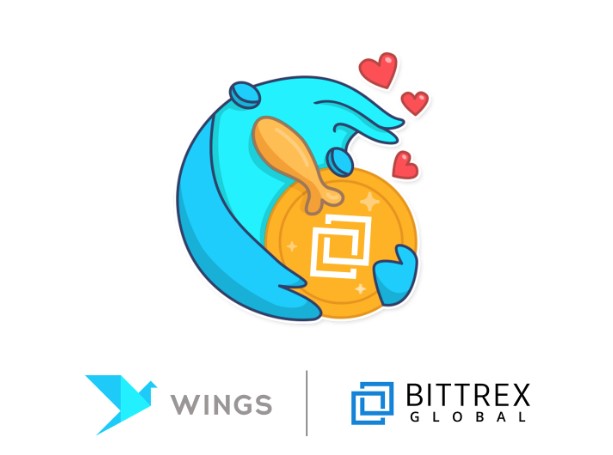 01Jun
Leading US Crypto Exchange Bittrex Global Lists WINGS
Zug, Switzerland, ChainWire, 1st June, 2020
The next generation cryptocurrency exchange Bittrex Global lists WINGS after a prolonged pause in trading following the migration of Bittrex to a new legal jurisdiction.
Both organizations share a long history of working together and are expected to continue this tradition for the foreseeable future. The WINGS market went live on Bittrex Global on June 1st at 8:00AM PDT.
"We are happy to invite Wings to our global network again. We look forward to working together and seeing the efforts of the Wings team yield results. We are confident Wings is about to surprise us all" – Rahwa Berhe, Vice President & Chief of Staff at Bittrex.
"We are very excited to see that Bittrex Global continues to recognize our value and the value we bring to the blockchain ecosystem. This is a great opportunity for us and we are happy to be listed on this top tier exchange again; the listing shows Bittrex Global's confidence in the Wings team and in our products, including the upcoming dfinance platform" – Boris Povod, President and R&D lead at Wings Stiftung.
The Wings team has been focused on the development of the new dfinance platform, which is based on Cosmos and Libra's Move VM and enables the creation and trading of various decentralized financial instruments with no prior coding skills required. The new platform is currently in testnet with a mainnet expected to be released in Q4 2020 while WINGS protocol will remain relevant and complementary.
About Bittrex Global
Bittrex Global is one of the leading international cryptocurrency exchanges that provides their services across the globe. The company enables fast trade execution, industry-leading security practices, and innovative approach. The primary mission of the exchange is to help drive innovation in the Blockchain industry by supporting established and brand-new blockchains. Learn more at global.bittrex.com.
About Wings Stiftung
Wings Stiftung is a Swiss based non-profit foundation located in the famous crypto valley of Zug. It's purpose is the promotion of developments, support and maintenance of new technologies and applications, especially in the fields of new open and decentralized software architectures. Learn more at https://wingsfoundation.ch/.
Contacts
Council Member
Arman Manukyan
WINGS Stiftung
info@wings.ai